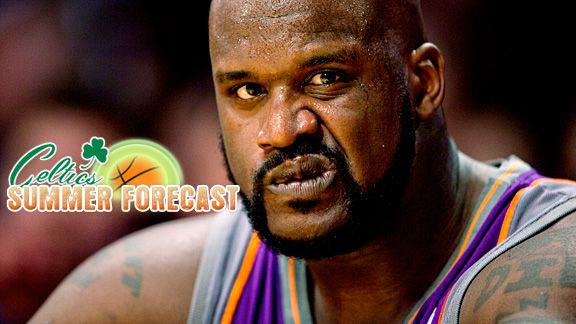 Jeff Lewis/Icon SMI
What can we expect from Shaq this season? Our panel weighs in.When you're Shaquille O'Neal, expectations will always be inflated.
There's simply no way around it. Even at 38 years old and with 18 NBA seasons under his belt, O'Neal is still viewed as the man who once fearlessly anointed himself, "the most dominant player ever."
There are some who still expect O'Neal to produce the 24.1 points and 11 rebounds per game that he's averaged during a Hall of Fame career that includes four world titles and 15 All-Star Game appearances.
But here's the reality as he joins the Boston Celtics: Shaquille O'Neal is this year's Shelden Williams. Scoff if you must, but -- like Williams -- O'Neal was brought in at the veteran's minimum to add frontcourt depth and -- like Williams -- O'Neal could see extended time at the start of the season due to injury.
Yet O'Neal will be criticized if he posts the 3.7 points and 2.7 rebounds per game that Williams averaged a year ago in 54 appearances. No, the bar will be set at least somewhere around the 12 points and 6.7 rebounds per game that O'Neal averaged last season in 53 appearances (all starts) for Cleveland.
For his part, O'Neal acknowledges that this stop in his career is like no other and he notes that team success should dictate how he's judged more than his stat line.
"The roles I had on previous teams were different," O'Neal said at his introductory press conference earlier this month. "I'm much older now. This team is a good team, with or without me. Sometimes, in order to win, you have to sacrifice. Because, at the end of the day, it's all about sacrificing and nothing else. When I was 'That Guy,' I did everything I was supposed to do. And everything's documented. But now, it's not about that. It's about coming to a team that needs one or two pieces and we're just going to play and play hard and play to win."
So what are reasonable expectations for O'Neal next season? We asked our panel of 18 writers from eight of our favorite Celtics blogs to offer their thoughts on Shaq's role next season, including their best guess at his minutes, points and rebounds per game.
Click HERE to read the full story.