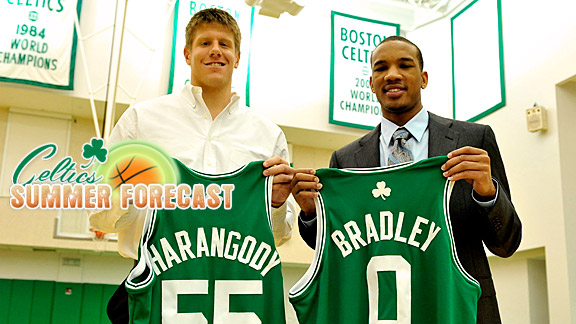 Brian Babineau/NBAE/Getty Images
Can Luke Harangody or Avery Bradley make an impact on the 2010-11 Celtics?The question seemed innocent enough: Which of Boston's rookies will have the biggest impact next season? Our acerbic-tongued panel of Celtics bloggers wasted little time pouncing on the query.
"Impact may be a strong word considering the coach of this team and his track record for splintering the hindquarters of his freshmen class with pine needles," quipped Justin Poulin of Celtics Stuff Live.
Nick Gelso of North Station Sports added, "The rookies will all have a big impact -- in the D-League!"
Yes, our panel will be here all week. Tip your waitstaff.
But the 18 writers from eight of our favorite Celtics blogs have a point. Ever since the Big Three united in 2007, it hasn't been easy for young players to make an impact on this team, particularly in their freshman campaigns.
While our panel cautioned against expecting too much from any of the rookies, half of the Celtics observers suggested first-round pick Avery Bradley (1st round, 19th overall) would have the biggest impact. Things don't look as promising for Luke Harangody (2nd round, 52nd overall) and Semih Erden (2nd round, 60th overall in 2008). As Red's Army's Chuck McKenney wrote, "I'm not sure Harangody and Erden will see much action, buried behind the deepest frontcourt in the history of the NBA."
Indeed, the second most popular voting option turned out to be "none of the above." Here's the breakdown:
Click HERE to read the full story.