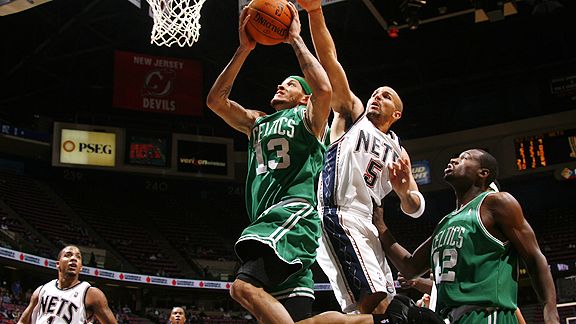 Jesse D. Garrabrant/NBAE via Getty Images
Delonte West will be back in green this fall.The Boston Celtics are set to sign free-agent guard Delonte West, president of basketball operations Danny Ainge confirmed to ESPN Boston.
West, selected 24th overall by Boston in 2004 NBA Draft, spent three seasons with the Celtics before being dealt to Seattle in the draft-day package that brought Ray Allen to Boston (along with the draft rights to Glen Davis).
"I think Delonte helps our club a lot," said Ainge. "He was one of the toughest guys for me to trade. I'd do it again, of course, but we really liked Delonte when he was here. Even though we knew the issues and the challenges he needed to take care of, we also think Delonte is in a better place today, than he was the day he left. He wasn't perfect, but we still liked the player."
West didn't last a season in Seattle before being flipped to Cleveland in a three-way trade. He has spent the last two-plus seasons -- seasons marred by off-the-court troubles -- with the Cavaliers, saving his finest efforts in the 2008-09 postseason before losing his starting job last season. Cleveland traded West to the Minnesota Timberwolves last month and he was waived soon after.
Click HERE to read the full story.