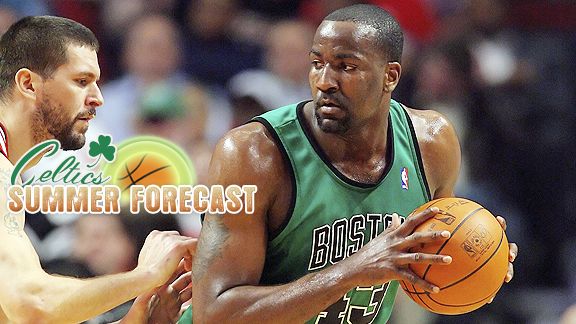 Dennis Wierzbicki/US Presswire
Should Kendrick Perkins compete for his starting job once healthy? Our panel weighs in.Recruited to beef up a Celtics frontcourt exposed on the NBA's biggest stage last season, Jermaine O'Neal and Shaquille O'Neal arrived in Boston this summer uttering all the right things about their roles, including the fact that they'd both be happy as reserves once Kendrick Perkins returned from offseason knee surgery.
Then Celtics president of basketball operations Danny Ainge made a cryptic comment about Perkins having to "compete" for his starting job, raising more than a few eyebrows among those who simply assumed Perkins, once healthy, would reassume his spot in Boston's familiar starting five.
Just hours after Shaq met Boston reporters for the first time last month, Ainge said in a conference call that, "[The addition of Jermaine O'Neal and Shaq] does take pressure off of Kendrick. He has a very bright future and he knows we think very highly of him. We're not certain, though, when he [will be] 100 percent and this allows us to be patient with Kendrick. At the same time, I'm sure he's going to be worried and nervous since we are going to win games with this front line even when he's not playing. I'll be sitting with and talking with Kendrick throughout this whole process and hopefully he can just focus on getting himself healthy and competing for his job back. "
Competing for his job back? Can a basketball player lose his job to injury? Our panel weighs in.
Click HERE to read the full story.