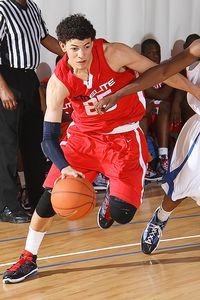 Kelly Kline
Austin Rivers jumps up to No. 1 on ESPNU's Top 100 hoops recruits.Austin Rivers, son of Doc and a highly recruited high school senior, vaulted to the top of ESPNU's Top 100 men's basketball recruits this week. From ESPNU Recruiting:
One look at the updated ESPNU 100 and it's easy to see that Kentucky coach John Calipari is off to another tremendous start. The Wildcats have four players in the top 12, including No. 2 Michael Gilchrist (Elizabeth, N.J./St. Patrick), No. 3 Anthony Davis (Chicago, Ill./Perspectives), No. 7 Marquis Teague (Indianapolis, Ind./Pike) and No. 12 Kyle Wiltjer (Portland, Ore./Jesuit). However, Kentucky does not lay claim anymore to the top-ranked player in the 2011 class because Austin Rivers (Winter Park, Fla./Winter Park), who remains undecided about his college choice, has played himself into the top spot.

It's important to note that Gilchrist had an excellent summer and continues to improve. He is still a star and one of the most dominating players in this class. His jumper has improved and he even won a gold medal with the USA U-17 team. It's just that Rivers has played out of this world.

Rivers always could dominate on the offensive end, but he has surpassed his peers based on an ability to lead his team to a comeback win, like he did in the AAU Super Showcase finals. He also won a gold medal and set a U.S. record with 35 points in a FIBA U-18 event against Team Canada.

He is the most-skilled offensive player in the country thanks to his array of moves, highlighted by his lethal crossover, and killer instinct. Rivers can get to the rim, put up a floater over bigger defenders, hit pull-up jumpers, score off pick-and-rolls and shoot long 3-pointers. Plus, he can deliver a good pass when under duress. He consistently put up 30-plus points this summer, despite teams keying on him. In one-on-one situations, the son of Boston Celtics coach Doc Rivers can get his shot on anyone and has come to embrace the bull's-eye on his back.
Click HERE to read the full story.
(Note: Yahoo! Sports' Marc Spears had a tremendous profile on Austin Rivers recently that's worth a read as well).