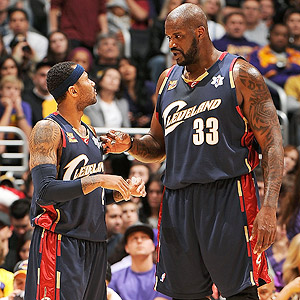 Andrew D. Bernstein/NBAE/Getty Images
Shaquille O'Neal and Mo Williams chat last season as teammates with the Cavaliers.The Times Picayune in New Orleans caught up with Celtics center Shaquille O'Neal Friday at his charity golf tournament, where Shaq reaffirmed his acceptance of a reserve role at his advanced age, but stressed that he feels younger than his 38 years may reveal. He also noted that he explored signing with his hometown Hornets before landing in Boston, and took a little jab at Mo Williams along the way.
Here are the quotes from Shaq:
"I'm at the point in my life where I can't carry a team by myself anymore, but I can be a piece on a team that's already good. The Celtics are good with or without me. A lot of people say, 'how can I be a complementary player?' But at 38, it's easy. If I was 28, it would be a problem, Doc."

...

"Even though I've played 18 years, my body doesn't feel like it because I've missed 260 games due to injury. But if I was still averaging 20 shots a game, I would still be averaging those Shaq numbers. But I've been in situations where there are younger and better guys, so you can get them to take all the shots."

...

"I like that they play together and nobody really worries about shots. When I was with Cleveland, guys who couldn't even play were worried about shots. Why was Mo (Williams) taking 15 shots, and I'm only taking four? If LeBron takes 20 shots, that's cool."

...

"So I said, let me get with a good team for the last two years. I don't mind people calling me a journeyman. I've been programmed to move around every three years."
Click HERE to read the full story.