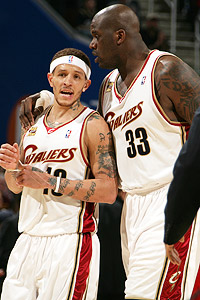 David Liam Kyle/NBAE/Getty
Shaquille O'Neal and Delonte West together in Cleveland.A nice find from one of the posters on the message boards at CelticsBlog, digging up an NBA.com article on Shaquille O'Neal's time in Cleveland, and an especially poignant section on his relationship with Delonte West.
So he's at a different stage, one where his biggest contributions often happen when he doesn't have the ball. For example, when teammate Delonte West had personal issues and legal trouble last offseason, he soon found himself being constantly pulled aside by a 7-foot-1, 300-whatever-pound counselor who took particular interest in helping someone in need.

West is taking a low public profile this season, refusing all interviews. But when he learned the topic was Shaq, there were some strong thoughts West wanted to share, that he needed to share.

"This is about Shaq?" he asked.

About Shaq, yes.

"Well then, you need to know something. He's like a big brother for me right now, as far as everything that's going on in my life. Just seeing how he handles things is an inspiration to me. This is someone who has been around the world. He gives me advice every day. He'll lay down and die for you, and that's my type of guy. He's an amazing person, someone I can't even begin to describe. A big influence in my life."

Those are the roles Shaq willingly accepts nowadays: Big brother, mentor, leader and 25 minutes-a-night contributor. Of course, once April comes, his evolution must take another spin, because the Cavs are championship-driven.
Click HERE to read the full story.
Just another sign of the positive situation West is walking into in Boston. Especially as the new season nears, I'm reminded of opening night in Cleveland last year, where Celtics coach Doc Rivers was asked about West and his troubles. Rivers spent a few moments gushing about West and noting that he hoped the Cavaliers could keep help him along. "You just hope someone can get to him," said Rivers. "As long as someone is breathing, you can't give up on him."