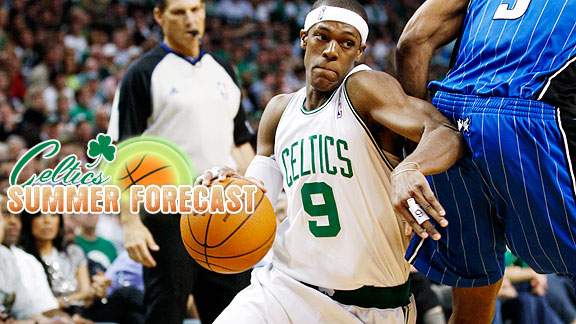 Winslow Townson/US Presswire
There's a reason Rajon Rondo heard MVP chants in the postseason.There's the potential this season for the Boston Celtics to trot out a starting lineup featuring what Shaquille O'Neal recently dubbed, "four first-ballot Hall of Famers," looping himself in with the vaunted Big Three. Yet close observers of the team are nearly unanimous in their assertion that the most important player on the court is the one who has yet to ascend to that lofty status.
We asked 18 writers from eight of our favorite Celtics blogs who would emerge as Boston's Most Valuable Player during the 2010-11 season and fifth-year point guard Rajon Rondo was the runaway winner, with 89 percent of the vote.
While many of our panelists grappled with the decision to pick one player, one going so far as to offer a team MVP selection, the only other player to garner a vote was Kevin Garnett.
Yes, Boston's success in this new Big Three era has been dictated by the overall depth and contributions from the entire roster, particularly a starting 5 that typically includes Kendrick Perkins.
With the added depth of former All-Star centers like Shaq and Jermaine O'Neal this offseason, our panel deferred to Rondo because of how instrumental he is -- and will continue to be -- in extracting max performance from players that were once regarded as the MVP of their individual squads.
Click HERE to read the full story.