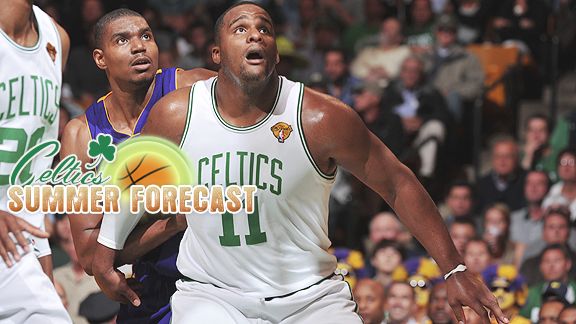 Garrett W. Ellwood/NBAE/Getty Images
Is Glen Davis Boston's most important bench player this season? The panel weighs in.Part of the preseason buzz surrounding the Celtics last season stemmed from a revamped bench, where the addition of Rasheed Wallace and Marquis Daniels was supposed to make Boston the deepest team in the league.
It didn't quite pan out. Wallace labored through a dreadful regular season and Daniels tore ligaments in his left thumb, then disappeared from the rotation. What's more, Glen Davis fractured his right thumb in an off-the-court incident right before the start of the regular season and spent most of the year playing catch-up.
Even Eddie House, a key contributor off the bench during Boston's 2007-08 title run, struggled before getting shipped out of town with the Celtics desperately seeking a spark at the trade deadline. You can make the case that Tony Allen was the only bench player to meet (or exceed) expectations, overcoming familiar injuries woes to be the most consistent Celtics reserve last season.
Allen bolted for greener pastures in Memphis this summer, but hope springs eternal with the Boston bench, thanks in large part to this year's offseason additions of Shaquille O'Neal and Jermaine O'Neal, two former All-Star centers pegged for reserve duty once Kendrick Perkins recovers from knee surgery.
So we asked our panel of 18 writers from eight of our favorite Celtics blogs who they thought would emerge as Boston's Sixth Man of the Year during the 2010-11 season. Davis emerged as the top vote-getter, while his Shrek & Donkey counterpart Nate Robinson and Shaq (another green monster) also garnered heavy consideration.
Click HERE to read the full story.