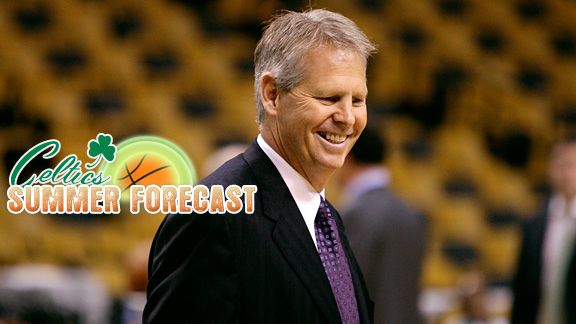 AP Photo/Charles Krupa
Will Danny Ainge be dealing at the deadline? Our panel weighs in.Earlier in our Celtics Summer Forecast series, we explored how NBA rosters almost inevitably morph over the course of a season. Much of that change -- or at least the most noteworthy of it -- tends to come in mid-February, when teams overhaul their rosters at the trade deadline.
Contenders become buyers; pretenders become sellers. Bodies are moved as quality teams bolster their roster for a playoff run, while struggling squads turn their eyes toward future seasons (and maybe more so this year than any other with a potential lockout looming).
While the Celtics have been relatively minor players at the trade deadline during Danny Ainge's tenure as president of basketball operation, often leaning heavier on veteran free-agent signings late in the season rather than a swap, the team did make a big-splash move last season in shipping Eddie House, J.R. Giddens, and Bill Walker to the New York Knicks in exchange for Nate Robinson and Marcus Landry.
But examine Boston's previous trade deadline history, and you'll find few eyebrow-raisers. For the 14th installment of this year's Celtics Summer Forecast, we asked our panel of 18 writers from eight of our favorite Celtics blogs whether Boston would make a deadline move during the 2010-11 season.
Admittedly, it's an unfair question. It's asking our panel of Celtics observers to not only predict how the first four months of the season will play out, but gauge what the Celtics' needs will be at that point and what the market will look like around the league.
But here's one telling sign: Nearly our entire panel thought the team would make some sort of move, most pointing to the wing position, where a lack of depth still concerns most of our observers. This shouldn't necessarily be construed as a lack of faith that this roster, as currently constituted, can't get back to the NBA Finals. Rather, it's likely a reflection that our panel believes this team will be championship contenders again and therefore in the market to upgrade for the stretch run.
Click HERE to read the full story.