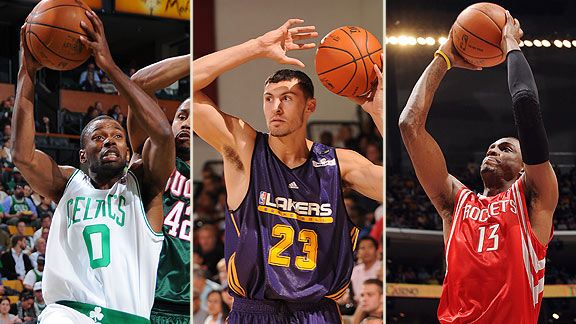 Getty Images
Fighting for a roster spot: Oliver Lafayette, Tony Gaffney, and Von Wafer.There's two weeks until Celtics training camp opens and that provides us with the perfect opportunity to break down Boston's roster from the bottom of the rotation to the top during that span (a tip of the cap to our friends at the Land O' Lakers Blog at ESPN Los Angeles for inspiring the series with their roster breakdown entries).
We're going to add a slight wrinkle: At our last stop, we used to do a weekly high school football column that incorporated a musical album and the song titles (or lyrics from those songs) were used as part of the breakdown. It was one of the more fun articles to pen and we're hoping to find a way to incorporate it back in this space, so we'll give this a tryout here.
We kick off the series today with a look at the battle for the final roster spot, one of the more intriguing spots to watch at camp (even if the player that ultimately occupies this spot might climb higher in the rotation depending on positional need).
The competitors
*Note: Both Gaffney and Lafayette have non-guaranteed deals unless they make the opening-day roster; Wafer is on a one-year deal and the league would pick up a small portion of the contract, that has a total potential value of $992,680 as a veteran with five year's experience.
The competition
After the Celtics signed Delonte West earlier this month, president of basketball operations Danny Ainge stressed that Boston would carry the 15 best players out of camp. He reiterated that to both Gaffney and Lafayette, who appear to be the only players on the team without at least a portion of their 2010-11 salaries guaranteed, leaving them on the outside looking in with Boston's roster at max capacity.
According to the insanely valuable salary site, ShamSports.com, Wafer's deal is only guaranteed up to $150,000, which would make him a relatively low-cost cut if the team decided that either Gaffney or Lafayette (or any other potential camp invite) had outperformed him during camp.
Wafer has a little something to prove, regardless of competition. Despite a breakout season in Houston two years ago, there are questions about his attitude after publicly clashing with his coach on the bench during a playoff game. Last year, he signed a lucrative two-year, $10 million contract with Greek squad Olympiakos, but was waived one month into the team's season.
To his credit, Wafer rolled with all the punches while speaking to Boston reporters for the first time at Shaquille O'Neal's glitzy introduction last month. He was self-deprecating when asked about his own defense ("I've heard bad things about my defense," he deadpanned) and admitted he acted out at the wrong time in Houston. He said his situation last year overseas made him mentally stronger. We'll find out just how strong later this month.
Much more after the jump...
Role with the 2010-11 Celtics
Breaking this down player-by-player...
WAFER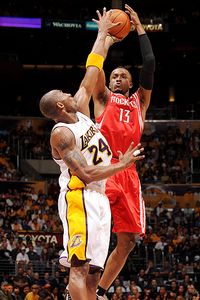 Noah Graham/NBAE via Getty
Von Wafer.
If he shows at camp that he can be the type of player who came off the bench to average 9.7 points, 1.8 rebounds, and 1.1 assists per game for Houston in 2008-09, Wafer is in line for plenty of minutes (and opportunities to thrive) in Boston. With Delonte West suspended for the first 10 games of the season, Wafer would be the top backup behind Ray Allen, whose legs Boston desperately needs to keep fresh this year. He'd be the perimeter shooter on a second unit that potentially boasts the likes of Shaquille O'Neal, who would surely open up the outside shot for teammates when defenses collapse on him. With the Celtics putting an increased focus this offseason on improving their second-unit offense, Wafer enters a situation that plays to his strengths and allow him to bounce back from a disappointing stint overseas.
Best-case scenario: Wafer comes out on fire in the preseason, ensuring his spot on the roster and carries that momentum into the regular season, where a steady dose of minutes allows him to flourish as he did in Houston.
Worst-case scenario: Wafer struggles during the preseason, leaving his roster spot in jeopardy, and is potentially outplayed by a younger player, forcing the Celtics to cut him free. The fact that Boston is thin at the wing, coupled with West's early season suspension makes this unlikely, but not impossible).
GAFFNEY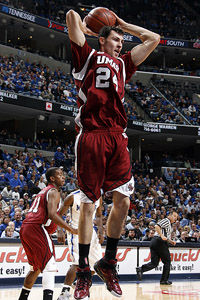 Joe Murphy/Getty Images
Tony Gaffney.
A defense-first hoopster, if Gaffney shows he's capable of being a rotation-ready player, he could assume a Tony Allen-like role as stopper off the bench. Considering the potential offensive upgrades in the second unit, his sole focus could be maintaining the defensive intensity when the likes of Rajon Rondo, Paul Pierce, and Kevin Garnett are on the bench. Gaffney said last week that he believes he's capable of guarding anyone in the NBA at four positions. It's no secret that buying into Boston's defensive philosophies is key to seeing floor time.
Best-case scenario: Unleashed after overcoming the foot injury that sacked his overseas experience last season, Gaffney shows exactly why the Lakers wrestled with the decision to make him their final cut before the 2009-10 season. The hometown boy makes headlines by making the team, but then proves he belongs by settling into a role that makes no one miss Tony Allen.
Worse-case scenario: Squeezed out by Boston's already maxed-out roster, Gaffney endures the pain of being this|close to making another talent-oozing roster and faces an uncertain future. Even in that scenario, you can't help but wonder if another team might swoop him up given the fact that both the Lakers and Celtics -- teams that combined for the last three Larry O'Brien trophies -- clearly like his potential.
LAFAYETTE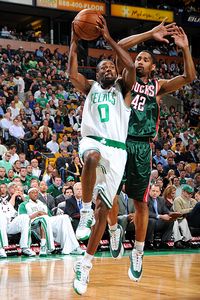 Brian Babineau/NBAE/Getty
Oliver Lafayette.
There's no lack of talent with Lafayette, who looked like Boston's best player on the court at times during summer league in Orlando. Regarded as a scorer while starring in the NBA Development League the past two seasons, the Celtics would need Lafayette to be more of a combo guard, balancing that offensive output with an ability to handle the ball behind Rajon Rondo and score when needed. Trouble is the depth in front of him, including Nate Robinson, West, and rookie Avery Bradley.
Best-case scenario: It might have been a glorified exhibition, but Lafayette showed NBA potential by logging seven points and four rebounds in Boston's regular-season finale vs. Milwaukee (not bad for a guy signed a short time before). If the Celtics think he can be a better all-around player than, say, Wafer or West, he sneaks on the roster and tries to continue that upward trajectory.
Worst-case scenario: At age 26, time is working against Lafayette. Put another way: He's six months older than Kendrick Perkins and he's six years older than Bradley. General managers might be leery of a player that hasn't proven he can stick at this level by that age and Boston's depth forces him to examine a Plan B.
Delivery of Flowers
Killers frontman Brandon Flowers released his first solo album Tuesday with "Flamingo." Here's the skinny from Rolling Stone's three-star review of the disc:
As lead singer and main songwriter for the Killers, Flowers has become our staunchest Born to Run-era Bruce Springsteen revivalist, and on his first album as a solo artist he pumps up the pomp, delivering surging synth-rock crescendos and belting out lyrics like "Woke up in the rusted frame of a burned-out old DeVille" ("Welcome to Fabulous Las Vegas"). It would be laughable if Flowers wasn't 100 percent committed, and if the hooks on Flamingo weren't irresistible. He is, and they are — and you'll be too busy singing along to giggle.
Indeed, those expecting Killers dance floor-ready tunes will be disappointed, but Flowers new album plays like a stripped down "Sam's Town," the full-band homage to their Las Vegas roots.
We'll incorporate one of the 15 tracks that appear on the deluxe version of "Flamingo" to summarize each entry in the roster rundown. Today's track: "Magdalena."
"Please don't tell me I can't make it / It ain't gonna do me any good"
Those are the first lyrics on the album's seventh track and that's exactly the mentality that both Gaffney and Lafayette stressed last week, while discussing the roster logjam during a Shamrock Foundation appearance at Blackstone Elementary in Boston's South End. Both players stressed that all they needed to know is that they still have a chance to make this roster. Gaffney suggested that no one will work harder and he'll die trying to make the team. Neither player said they have -- or will -- even considered a Plan B until they absolutely have to.
"Tell him that I made the journey / And tell him that my heart is true"
All three players spotlighted here have endured quite the basketball journey. Gaffney's rookie season saw him: Go undrafted, yet latch on and nearly make the roster of the rival Los Angeles Lakers; sign in Israel trying to prove himself, only to break his foot in his first international game; then enduring months of rehab amidst an uncertain future; sign with his hometown team and enjoy a run to the cusp of an NBA title; and another summer of uncertainty with his position not guaranteed next season.
Wafer has been on six different NBA teams in four-plus seasons, along with the failed venture overseas. After college in Houston, Lafayette has bounced from Erie to Fort Wayne to Boston and stands so close to realizing his NBA dream.
It's been quite a journey for all three players, and their next chapter(s) could be written over the month leading up to the start of the 2010-11 NBA season.