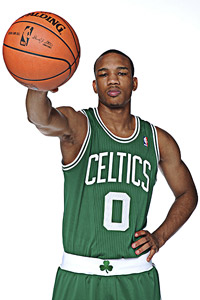 Jennifer Pottheiser/NBAE/Getty
On a veteran roster, 19-year-old Avery Bradley provides a dash of youth.With less than two weeks until Celtics training camp opens, we're breaking down Boston's roster from the bottom of the rotation to the top. Today's focus: Avery Bradley.
Fast Facts
Position: Guard
Vitals: 6-2, 180 lbs
Experience: Rookie (1st round, 19th overall, 2010)
Last season: 11.6 ppg, 2.1 apg (Texas)
Salary: $1.4 million
Season Outlook
The Celtics haven't employed a rookie selected in the top 20 of the draft since Gerald Green arrived with the 18th overall pick in 2005. Even expecting a Green-like type of contribution (7.5 points, 2 rebounds, 0.8 assists over 16 minutes per game in his rookie season) might be too much for Bradley, who joins a squad with exponentially more talent. That will allow Boston to bring Bradley along slowly and ramp up his floor time as his development allows.
Injured during a pre-draft workout, Bradley spent much of the summer rehabbing an injured ankle and missed summer league, so he's a bit behind to start the year. Ranked the No. 1 high school player in the nation by ESPNU two years ago (ahead of even John Wall), his talents should allow him to catch up quickly. The injury, which he said was the first one to ever sideline him for this long, leaves Bradley chomping at the bit to showcase his talents.
Role with the 2010-11 Celtics:: The return of Nate Robinson, along with the offseason addition of Delonte West, bumps Bradley towards the back of the combo guard depth chart. He'll get a chance to learn the point guard position behind Rajon Rondo, but Celtics coach Doc Rivers already stressed that he has NBA-ready defense. That could help him earn early court time, but Boston is surely going to exercise caution. Rookies haven't seen an abundance of action in recent seasons, anyhow.
Best-case scenario: Without summer league to go on, the preseason will be the first chance to judge Bradley against NBA competition. If the hype about his defense is confirmed, there's a solid chance he could work his way into the rotation, particularly if Robinson struggles as Rondo's primary backup. Bradley's scoring abilities also mean he could log time at the 2, helping to back up Ray Allen (remember that West is suspended for the first 10 games of the season, thinning depth at both guard spots).
Worst-case scenario: There really is no worst-case scenario for Bradley, barring an injury setback. The Celtics have the great luxury of not needing to thrust him into the fire and he'll benefit from any and all experience, regardless of whether it's playing on the practice court, watching on the bench, or shuttling up to Maine for some extended game reps in the NBA Development League.
Delivery of Flowers
The Killers frontman Brandon Flowers released his first solo disc entitled, "Flamingo" on Tuesday. We're utilizing song titles (and lyrics) to help break down the player in focus each day. Today's track: "Only the Young."
The Celtics will have played 15 regular-season games before Bradley even celebrates his 20th birthday. The team's first-ever player born in the 90's, you must keep in mind that Bradley was merely in the second grade when the Celtics drafted Paul Pierce back in 1998. With only one season at the University of Texas, he's still very raw and doesn't have to step right in and be an impact player. Remember, too, that Rondo was in a similar situation in his rookie season, buried on the depth chart and needed time to emerge (and that was on a 24-win team).
Only the young can break away, break away
Flowers surely wasn't singing about the Celtics with those lyrics. Only the young can get hidden away in Boston. Rookies have struggled to log extended minutes since the Big Three united and it's not necessarily a reflection of talent if Bradley doesn't get 25 minutes per game.
Have yourself another dream, tonight / Maybe we can start again
For the third straight year, Bradley finds himself in a new home. During his senior year of high school, the Seattle-area product transferred to Findlay Prep near Las Vegas, then joined the University of Texas (the same program that served as Kevin Durant's one-season NBA springboard). Now his cross-country journey treks to Boston and the start of his pro career.
Are you confident?
The good news about the whirlwind travel: Bradley has excelled at every level, leading Findlay to the national high school basketball title, then quickly working his way into a starting role with Texas. When the Longhorns were bounced from the NCAA tournament by Wake Forest in March, Bradley logged a team-high 42 minutes (no one was within seven minutes of him). Having sat out summer league, Bradley admitted during the offseason that he's itching to get on the court and show this team what he's capable of. Flowers closes this tune asking, "Are you confident?" Bradley most certainly is, expressing during the offseason that he doesn't know his role, but plans to contribute any way he can.
Rundown Archive