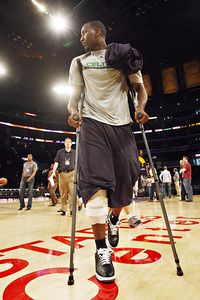 AP Photo/Reed Saxon
The Celtics need a healthy Kendrick Perkins to be successful this season.In a top 10 list detailing the biggest injury concerns entering the 2010-11 season, NBA.com's David Aldridge pegs Kendrick Perkins' ACL rehab as one of the main areas to watch, suggesting Boston should brace itself for little in the way of contribution from Perkins this season.
Boston didn't bring Shaquille O'Neal aboard because it felt confident that Perkins would come back quickly from the bad knee injury he suffered in the opening minutes of Game 6 of the Finals against the Lakers. The Celtics have all-too-familiar experience with knee injuries suffered by big men in recent years, having lost Kevin Garnett for the playoffs in '09 and Leon Powe early in that postseason, too. Perkins underwent successful surgery in July but will be a spectator until at least the All-Star break, and even then, the likelihood he'll make much of a contribution this season is small.
Forsberg's take: While I think Perkins will make more of an impact this season than Aldridge is suggesting, I agree that his health might be the single biggest story line for Boston entering the 2010-11 campaign.
For all the talk about team chemistry and depth at the wing, nothing is as vital to Boston's success as Perkins' recovery after tearing the ACL in Game 6 of the NBA Finals. Here's why: Despite a beefed-up frontcourt, the Celtics really haven't added that much depth if Perkins doesn't return to form in the second half of the year. After all, Boston also lost Rasheed Wallace this offseason (expected retirement after being waived by Boston). At least to start the year, Jermaine O'Neal and Shaquille O'Neal simply fill the voids left by Perkins and Wallace. That depth only becomes a bonus this season when Perkins is able to resume his starting role.
Yes, we expect more from Glen Davis (call him "Bigger and Better Baby,") and rookie center Semih Erden could use his performance at the FIBA world championships as a springboard to becoming a contributor in his first NBA season. But there's also the lingering question about how much the O'Neals have left in the tank (though there's no reason to think both won't continue to play at a high level, we all know how much more was expected from Wallace and that didn't match what was provided for much of last season).
Doc Rivers will kindly remind you that the Celtics' Big Three-era starting 5 has never lost a playoff series when healthy. Boston learned the hard way last season just how valuable Perkins is to this team. And that's why his health is so important, because Boston has never won a world title when he's not 100 percent.