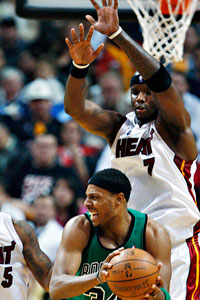 AP Photo/Wilfredo Lee
Paul Pierce and the Celtics welcome the addition of Jermaine O'Neal.With less than a week until Celtics training camp opens, we're breaking down Boston's roster from the bottom of the rotation to the top. Today's focus: Jermaine O'Neal.
Fast Facts
Position: Center
Vitals: 6-11, 255 lbs.
Experience: 14 years
Last season: 13.6 ppg, 6.9 rpg, 1.3 apg (Miami)
Salary: $5.8 million
Season Outlook
With Kendrick Perkins sidelined for the first half of the year after offseason knee surgery, the Celtics moved quickly to ink O'Neal, a six-time NBA All-Star, utilizing the team's full mid-level exception. It seemed O'Neal would hold down the center spot until Perkins returned, then slide into a reserve role, but the recent signing of Shaquille O'Neal could promote competition for that starting job in camp. Regardless, Jermaine O'Neal's signing has potential to bolster a frontcourt that was exposed in Games 6 and 7 of the NBA Finals.
O'Neal is coming off an absolutely dreadful playoff performance in which Perkins limited him to 4.2 points per game on 42.9 percent shooting (this from a player that averaged 12.7 points per game on 71.2 percent shooting in 81 career postseason appearances). O'Neal indicated this offseason that a late-season ankle injury might have affected his performance. What's more, the soon-to-be 32-year-old has a lot of miles on his NBA tires, with more than 25,000 minutes logged between regular season and the playoffs. But O'Neal stressed that he feels fit and hopes to win a couple championships in Boston before riding off into the sunset.
Expectations with the 2010-11 Celtics: Regardless of whether he begins the season as a starter or not, O'Neal is likely to end it as a reserve. In many ways, he's this year's Rasheed Wallace, the aging veteran brought in at the reduced cost of the mid-level exception with hopes he can still play like someone who deserved $23 million last season.
Injuries have prevented O'Neal from being the sort of dominant force he was in his early days with the Indiana Pacers, but he did start 70 games last season and his numbers are respectable. A closer inspection of his stats at HoopData reveals an interesting trend: While O'Neal is moving away from the basket more, his field-goal percentage is actually climbing. In the mold of Kevin Garnett, O'Neal is shunning those looks within 10 feet of the basket, but connecting at a higher rate than previous in his career from the mid-range game of 10-23 feet. So do the Celtics trot him out there with Garnett to start the season and sacrifice a true post presence, or does O'Neal run with the second unit and help space the floor? If nothing else, Boston has options, and as long as O'Neal can contribute a more consistent version of what Wallace produced last season (9 points and 4.1 rebounds per game), he should be well-received in Boston.
Best-case scenario: Playing with an All-Star cast, O'Neal doesn't have to be the No. 1 or 2 offensive option as he has been for much of his career. Instead, he can simply take advantage of the fact that teams can't key on him with the amount of talent on the floor. The Celtics often stressed what a luxury it was to be able to have Perkins guard O'Neal 1-on-1 in the playoffs and limit his production, but not every team is going to be able to stop him with one defender. By season's end, Boston would be well positioned if O'Neal was the top center off the pine, providing go-to offense with the second unit, while maintaining a high level of defensive intensity at the other end of the court. Expect Boston to also flirt with him at power forward, utilizing the versatility of a revamped frontcourt.
Worst-case scenario: Injuries have taken their toll and O'Neal certainly looks older than he is. Especially while Perkins is sidelined, the Celtics must limit the wear and tear on O'Neal -- something that shouldn't be an issue given the available big bodies -- and hope he settles into a role that doesn't force the team to reinvent when Perkins returns in the new calendar year.
Delivery of Flowers
The Killers frontman Brandon Flowers released his first solo disc entitled, "Flamingo" last Tuesday. We're utilizing song titles (and lyrics) to help break down the player in focus each day. Today's track: "The Clock Was Tickin'"
O'Neal acknowledged in his Boston introduction that, while he feels like he could play as many as five more seasons, he knows his NBA life may not extend past this two-year contract. That's why this lyric seems appropriate:
And the weeks fly by and the years roll on / They say patience is a virtue, but the doctor says she don't have long
Having collected roughly $153 million in contracts alone, the No. 1 thing O'Neal values now is a chance to win a title. He knew that no team -- not even the Heat, if you believe him when he says he had a shot to return there -- had a better chance of helping him achieve that goal than the Celtics.
The golden years are meant to leave a gleam in your eye / You're starting to discover it's a great big lie
Few age gracefully in the NBA, where youth and fresh legs are a premium. But the Celtics have shown that, by bringing together a collection of title-hungry veterans, there's a very good chance to achieve that ultimate goal, even against the best the league has to offer. Compared to Boston's Big Three, O'Neal is a blast of youth (he's exactly one year younger than Pierce), and they hope he has more in his legs than, say, what Wallace was able to provide last season. After all, it was just that little bit that might have prevented Boston from capturing Banner 18.
Rundown Archive