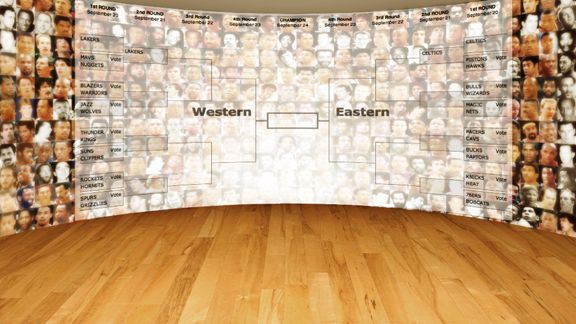 ESPN.com Illustration
The Celtics and Bulls square off in the quarterfinals.A while back, ESPN.com asked fans to pick their all-time starting 5's for each team in the NBA. Now those Franchise Fives are being pitted against each other in a bracketed tournament this week.
The Celtics (and Lakers) got a first-round bye and, after stomping the Pistons, are battling a feisty Bulls squad in today's voting. The winner will meet either the Bucks or 76ers in the Eastern Conference Finals Thursday before an NBA champ is crowned Friday.
Here's a look at the Boston vs. Chicago matchup:
Click HERE to vote.
You can also check out the "Feeble Five," a stats-based suggestion at the worst players in franchise history (in order to qualify for this list, a player needed to have played at least 10 minutes per contest over the course of at least 100 career games with the franchise).
Fans of Brian Scalabrine are likely not thrilled to see his name atop the Boston list. Alas, he will always be remembered as an intangibles guy.