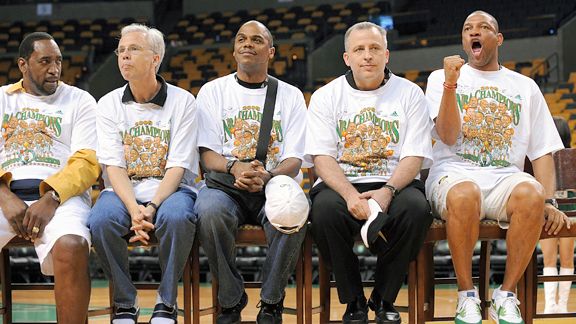 Brian Babineau/Getty Images
Boston's coaching staff before the victory parade after the 2008 championship season.A handful of Celtics' leftovers from Thursday:
Thoughts on the departed
In an offseason that saw plenty of turnover, Celtics coach Doc Rivers and president of basketball operations Danny Ainge spent part of Thursday's session with reporters talking about those key members of Boston's recent success that won't be back next season.
Rivers saw two members of his coaching staff depart when big-man coach Clifford Ray was not retained, while associate head coach Tom Thibodeau became head coach of the Chicago Bulls.
"It was difficult parting ways with Cliff," said Rivers. "It was difficult to [part ways with associate head coach Tom Thibodeau]. I had dinner and lunch with Thibs, Sunday and Monday [in Chicago]. I saw him too much. I told him he's not with me any more, get away from me. You form a special bond with those guys especially with Cliff. Cliff's been with me for a while. Someday he may be back with me. But yeah, it's always tough."
The Celtics hired former New Jersey head coach Lawrence Frank as Rivers top assistant. Ainge indicated last week that the team was having conversations with a former Frank assistant, Roy Rogers, about potentially bringing him in as the new big-man coach.
Ainge was asked Thursday about the departure of Brian Scalabrine, who spent five seasons in Boston, ascending to fan favorite despite limited contributions on the court.
"Scal was good for us, good for our team, and the morale of our team," said Ainge. "He brought a lot of good qualities to our team over the years."
Scalabrine is set to join Thibodeau in Chicago after agreeing to a non-guaranteed deal that will have him fighting for a roster spot during the Bulls' training camp.
Rondo on SportsCenter
Celtics point guard Rajon Rondo appeared on SportsCenter Thursday and ran the usual gamut of offseason questions, including looking back to Boston's Game 7 loss to the Lakers, ahead to a new seasons, and offering his thoughts on the Miami Heat.
As part of the appearance, courtesy of the NBA 2K11 video game that Rondo is promoting, there was also some chatter about player ratings in the game. Rondo must have got some bad information from game producers, because a list of starter ratings released Thursday indicated he's an 87 overall, not the 93 he believed in the interview. Regardless, he is the Celtics' top-rated player, which is sure to lead to some cries about disrespect from the other starters who range from 72 (Kendrick Perkins) to 83 (Paul Pierce). By comparison, Miami's Dwyane Wade and LeBron James are both at 97 overall, while Chris Bosh is an 87. The Celtics can hold out hope for an in-season roster rankings upgrade.