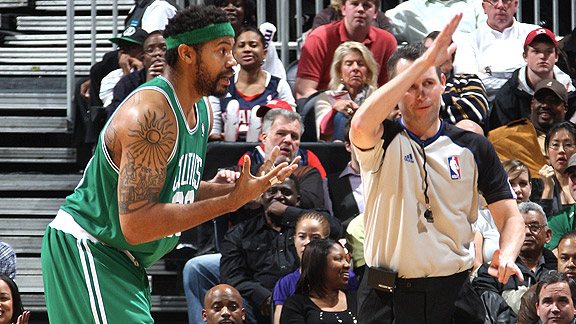 Scott Cunningham/NBAE/Getty Images
Rasheed Wallace doesn't like the call ... and probably the NBA's new technical guidelines.Maybe Rasheed Wallace knew what was coming when he decided to retire this offseason.
The NBA expanded its guidelines for technical fouls Thursday, giving referees even more reason to 'T' players up. Here's more from TrueHoop's Henry Abbott:
At the referees' annual meeting in Jersey City, N.J., on Thursday, the league announced the guidelines for technical fouls will expand to include "overt" player reactions to referee calls.

Referees have been instructed to call a technical for:

Players making aggressive gestures, such as air punches, anywhere on the court.

Demonstrative disagreement, such as when a player incredulously raises his hands, or smacks his own arm to demonstrate how he was fouled.

Running directly at an official to complain about a call.

Excessive inquiries about a call, even in a civilized tone.

In addition, referees have been instructed to consider calling technicals on players who use body language to question or demonstrate displeasure. They can also consider technicals for players who "take the long path to the official", walking across the court to make their case.

"The proper mindset, in every player's mind, is abstinence. That is: to not complain," NBA executive vice president of basketball operations Stu Jackson said. "The focus here is to just play the game. We have a great game. We have great players. We have a great product. Let's focus on executing offense and defense and being highly competitive. Complaining doesn't have a part in our game, and complaining has never changed a non-call to a call, or a call to a non-call."
Wallace is the NBA's all-time leader in technical fouls. Both he and Celtics center Kendrick Perkins spent time last season walking dangerously close to the league's limit for technicals before a suspension kicks in, including in the postseason where Perkins played his final seven games while toeing that line.
As Abbott notes, the league announced a similar crackdown for the 2006-07 season and it did little to change the game. Hop HERE for more analysis from Abbott.
Layup line
And here's some other Celtics headlines: