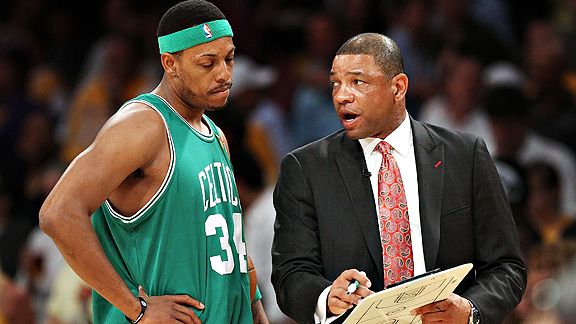 Christian Petersen/Getty Images
Paul Pierce, Doc Rivers, and the Celtics get back to work Tuesday as camp opens in Newport, R.I.The Boston Celtics open training camp Tuesday morning on the campus of Salve Regina University in Newport, R.I., taking the first step in what the team hopes is a nine-month odyssey back to the NBA Finals.
Despite a short summer after the 2009-10 season sprawled into late June when the Celtics fell to the Los Angeles Lakers in a seven-game Finals series, Boston coaches and players have expressed a desire to get the new season underway and begin that often-arduous climb back up the NBA mountain.
"I think we're ready to go," coach Doc Rivers said. "I can compare this to the [2007-08 season when] we won it, and it was a short summer. I thought that summer when we got back guys were like, 'Awww man, we've got to start over again.' I think these guys, they can't wait to get started. So that's a good sign."
Players have slowly been trickling back into the gym in advance of Monday's media day -- the unofficial start of the 2010-11 season. Second-year forward Tony Gaffney summed up the positive energy that's already flowing, even amidst a beefed up Eastern Conference.
"The environment in the locker room right now, it's something special," Gaffney said. "I know there's a lot of talk about the Miami Heat right now, but we're a team that's determined and looks ready to get this thing going."
With that in mind, here's an overview of the team heading into camp and what to watch for over the next month leading up to the first game of the new season on Oct. 26 at the TD Garden against that vaunted Heat.
Click HERE to read the full story.