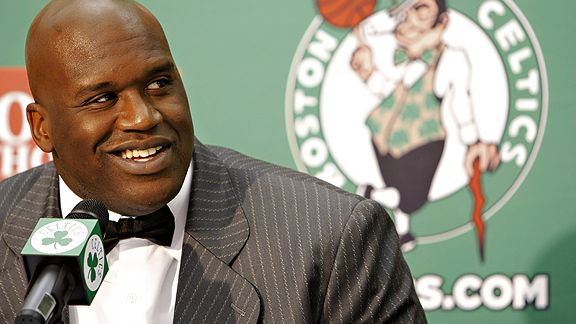 AP Photo/Greg M. Cooper
Shaquille O'Neal has his eyes on another world title.A fit and focused Shaquille O'Neal said he is ready for whatever role Doc Rivers envisions for him and, in an interview with ESPN Boston's Jackie MacMullan, sounds off on Kobe Bryant, the Miami Heat, and his desire for another championship.
QUINCY, Mass. -- Shaquille O'Neal lounged in his family room last June observing the Lakers' championship celebration on his flat-screen television, listening to the comments of former teammate Kobe Bryant with a bemused smile.

When asked what his fifth championship meant to him personally, Bryant declared, "I got one more than Shaq. So you can take that to the bank."

"My first thought [after hearing that] was, 'Well, I guess I'm still relevant,'" O'Neal said. "Kobe is still thinking about me, I guess. I'm still someone to be measured against.

"But I don't compete with little guards. I don't compete with little guys who run around dominating the ball, throwing up 30 shots a night -- like D-Wade, Kobe.

"Now if Tim Duncan said it, I'd be pissed. He's the only guy I'm competing with. If Tim Duncan gets five rings, then that gives some writer the chance to say 'Duncan is the best,' and I can't have that."

NBA training camps open across the country Monday and Shaq, the newest, biggest, oldest and most accommodating Celtic, wasted no time in firing salvos toward the West Coast and South Beach.
Click HERE to read the full story.