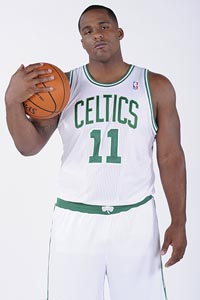 Brian Babineau/NBAE/Getty
Glen Davis is uncertain of his role on this year's Celtics squad.WALTHAM, Mass. -- While stressing that he'll do whatever it takes to help his team win, Celtics forward Glen Davis expressed disappointment Monday with a murky role that may force him to reinvent himself again this season.
Davis shrugged his shoulders during media day when asked what the addition of veteran big men Shaquille O'Neal and Jermaine O'Neal meant for him this season, then sounded off on his situation.
"I don't even know, I gotta find out what my role is," said Davis. "With Rasheed [Wallace] last year, I had to become a center. Now? I don't know. Do I become a [power forward]? Do I go back to playing the 4? We'll see.
"It's difficult because, as a player, you kind of don't understand where [the organization is] going or what they are doing. No matter what I do -- I can play great -- it's still not enough. I'm just here to help the team wherever possible, any way I can. Whenever I find my role, I'll do it to the max, the only way I can."
Davis noted that he blossomed late in his second season when Kevin Garnett missed significant time with a knee injury. Davis averaged 15.8 points, 5.6 rebounds and 1.8 assists per game in the 2008-09 playoffs, well above his regular-season career averages of 5.9 points, 3.6 rebounds and 0.7 assists per game.
That offseason, the Celtics recruited Wallace, making him the primary power forward off the bench and forcing Davis to adapt to a center role, where he shunned the perimeter pops for rolling to the basket. Already a bit undersized for an NBA big man, the 6-foot-9 Davis struggled at times around the basket (in a land of 7-footers), but carved out a role as an energy player who attacked the glass and thrived off his athleticism.
Now it might be back to the drawing board, in a contract year no less.
"Coming into my second year, I did a really good job of becoming a better player, but it wasn't good enough for our team, so they went out and got Rasheed Wallace," said Davis. "I had to adjust again. Rasheed was more of a perimeter guy and I had to be more of a low-block guy. I go from popping and hitting big shots to rolling to the basket a lot. That's what I needed to do for the team, so that's what I did.
"Now this year, you've got 5s, so I've just got to know what my role is again this year. [I've been] through some ups and downs with [head coach] Doc [Rivers], but as long as I find out what my role is, I'm going to do my role."
Boston bench players have typically thrived when assigned a specific role. Davis admits the uncertainty is the hardest part.
"It bothers me, but at the same time, I'm a player," said Davis. "Put me out on the court and I'll do anything you want me to do. That's the beauty of my position. Throw me out there and I'm going to play. I'm going to go out there and guard Shaq. Throw me out there and I'm gonna guard Rashard Lewis. Put me wherever you want to put me, I'm going to guard whoever you want me to guard. I'm just a basketball player.
"The role I would prefer to play is the role they want me to play."