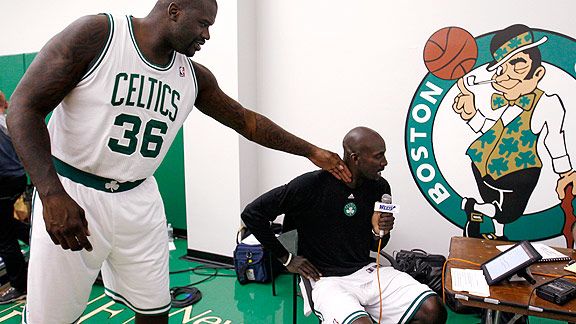 AP Photo/Winslow Townson
Shaquille O'Neal gets playful with Kevin Garnett during Media Day.WALTHAM, Mass. -- Media day can be a grind for players. For the better part of two hours, they shuttle from station to station, posing for photos and answering the same questions for different microphones.
It's kind of like the first day of school combined with photo day, and each class demands a presentation of some sort. Which is to say, it's not meant to be much fun.
But there was Paul Pierce, a veteran of 12 media days with the Boston Celtics, bouncing gleefully around the Sports Authority Training Center at HealthPoint on Monday, a big smile on his face at every turn. The unofficial start of the 2010-11 season, which media day essentially signifies, left Pierce downright giddy -- and he didn't mind telling everyone who asked.
"Truthfully, man, I had the same feeling about this team [before the 2007-08 season], when we got Kevin [Garnett] on the team and Ray [Allen]," said Pierce. "The additions that we made -- [Shaquille O'Neal], Jermaine [O'Neal], Delonte [West] and some of the other rookies -- this is one of the most talented teams, top to bottom. It's more talented than the teams that I've been on."
Pierce spent much of his summer trying to erase the pain of Boston's Game 7 loss to the Los Angeles Lakers in the NBA Finals, but it wasn't until he arrived in Boston earlier this month to participate in some pre-preseason scrimmages that he began to turn the page. That's because he knows the collective talent on the Celtics has the potential to ease that pain the only way possible: by winning another title.
Click HERE to read the full story.