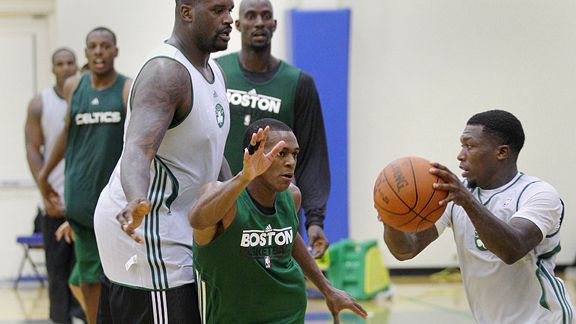 AP Photo/Charles Krupa
The Celtics at work during the first day of training camp in NewCeltics coach Doc Rivers hopes his team will ignore one of the lessons of last season -- that regular-season wins sometimes aren't that important, writes colleague Peter May:
NEWPORT, R.I. -- The jokes and quips surfaced almost immediately at the offseason meeting of the NBA coaches.

"Geez, Doc, how are we ever going to get our guys to concentrate on the regular season after what you guys did?' Or, 'Thanks a lot, Doc. How on earth am I going to tell my guys that the games in December and January really do matter?"

Faced with no other choice, at least as he saw it, Celtics coach Doc Rivers basically put a blowtorch to the 2009-10 regular season. Injured players sat and watched the others underachieve. But while they sat and watched, they healed. That was Rivers' grand design. He saw it as the only chance his team had to get healthy and make any kind of extended playoff run.

And when they did exactly that, coming up just short of the franchise's 18th title, Rivers was vindicated.

But now what? After last season, how can he tell his guys that the 2010-11 regular season is important? How can he look at them with a straight face and tell them about all those critical games in January, February and March?

After all, most of the guys who stumbled to a 27-27 finish over the final 54 games are back. That team will always be referenced when the discussion turns to, "Can Team A turn it on in time for the playoffs?" It's the gold standard. A fourth seed winning 50 games steamrolls through the conference playoffs and comes up a few points shy in Game 7 of the NBA Finals.

So how do you make things relevant going forward?
Click HERE to read the full story.