AP Photo/Charles Krupa
Shaq removes his sneakers following Boston's first session Tuesday.NEWPORT, R.I. -- Cleaning out the notebook while waiting for the Celtics to complete their second practice of the 2010-11 season:
The rundown (a quick look at leftover headlines)
* Rookie Bradley sidelined through camp?
* Wafer gets vote of confidence from C's
* An early look at the Celtics' depth chart
* Invitee Johnson waiting for FIBA release
* Reasons to keep an eye on the third unit
BRADLEY SIDELINED THROUGH CAMP?
Celtics coach Doc Rivers indicated that rookie guard Avery Bradley could be sidelined throughout training camp as he continues to rehab from ankle surgery this summer.
That sounds a lot more daunting that it is. Camp only runs through Saturday, so while Bradley, who admitted at Monday's Media Day that he's getting incredibly antsy to get on the floor with his new teammates after also sitting out summer league, only stands to miss a handful of sessions. The Celtics have preached patience to Bradley and, with solid depth at the guard spot, can afford to bring him along slowly. Both team and player prefer that to an injury setback.
Bradley watched Tuesday's first session from the sideline, decked out in full practice gear. He's been able to run and engage in basketball exercises for a couple weeks now, but the team is exercising caution in putting him in full-contact situations.
WHAT ABOUT VON?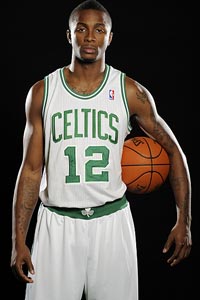 Brian Babineau/NBAE/Getty
Von Wafer poses during Boston's Media Day.During the portion of practice open to the media Tuesday, guard Von Wafer ran through drills with a third unit that was comprised of rookies (Semih Erden, Luke Harangody, and Tony Gaffney) and camp invites (Stephane Lasme, Mario West, and Jamar Smith). Asked what his status is entering camp, Rivers admitted he's got an uphill battle to secure a spot in the rotation.
"He's gotta make his role," said Rivers. "He's young, but he's got a lot of guys in front of him, so, right now, he's a guy coming off the bench and being a good practice player -- at least until he can play in front of somebody. Early on, with Delonte [West] not able to play [due to a 10-game suspension], he has a chacne to maybe play early on."
The 6-foot-5 Wafer seemed to be emerging as a key bench contributor in Houston when he averaged 9.7 points per game in 63 appearances during the 2008-09 season. He cashed in overseas with Greek squad Olympiakos last year, but lasted merely a month before being waived and returning stateside. He's got a lot to prove, but has potential to be a 3-point specialist (who can also get to the rim) off the pine.
Wafer, who appears to have only a portion of his contract ($150,000) guaranteed, according to salary site ShamSports.com, could be competing for that 15th and final roster spot with the likes of Tony Gaffney (a non-guaranteed contract). But he's got some support in recent days from Boston's top names, including Paul Pierce, who could get some relief if Wafer can handle time at both perimeter spots.
"No one is talking about Von Wafer," captain Paul Pierce said Monday. "He's going to be X-factor type of guy, who can give us a lift."
Wafer also got a vote of confidence from fellow Texan, Kendrick Perkins.
"I've been knowing [Wafer] since high school," said Perkins, who played with Wafer during the McDonald's All-American Game. "He's another great pick-up, another firecracker. He's got heart and he's gonna play hard and compete."
RESETTING THE DEPTH CHART
With Wafer in mind, here's a quick look at how the depth chart would look after the offseason additions (and through one practice session):
1st unit: Rajon Rondo--Ray Allen--Paul Pierce--Kevin Garnett--Jermaine O'Neal
2nd unit: Nate Robinson--Delonte West--Marquis Daniels--Glen Davis--Shaquille O'Neal
3rd unit: Jamar Smith--Von Wafer/Mario West--Tony Gaffney--Stephane Lasme--Semih Erden
Injured/Not participating: Avery Bradley, Kendrick Perkins, Chris Johnson
When healthy, Perkins, as he declared Monday, slides in at first unit center, while Bradley would be the point guard on the third team. Chris Johnson, an LSU product, is awaiting the thumbs up to join Boston. He watched practice from the sideline Tuesday, and is expected to be on the court as early as today. In fact, here's more on Johnson...
LOOKING FOR RELEASE
Here's the rundown on Johnson from the Fredericksburg Star:
Former Colonial Beach star Chris Johnson has been invited to the Boston Celtics' training camp.

Although the Celtics' official practices began yesterday, Johnson, who played professionally in Turkey and Poland last year, did not participate.

The Celtics are awaiting a letter of clearance from FIBA Europe that will allow Johnson to play, Johnson's agent, Eric Fleisher said. Fleisher said this is common practice involving players who join the NBA after playing overseas.

"The request has been made by the Celtics," Fleisher said. "It has to go through appropriate channels with FIBA, with the Polish Federation and with the team he last played on."

Johnson, a 6-foot-11, 215-pound forward, attended the Celtics' workout yesterday but did not practice with the team. He could not be reached for comment.

Fleisher said it typically takes about seven days to receive the letter, and the request was put in about a week ago.

Johnson's former AAU coach, Tony Squire, said Johnson took part in unofficial workouts with the Celtics last week.

"He said Shaquille O'Neal was guarding him the other day," Squire said, "and the day after that he had to go against Kevin Garnett. How many people get a chance to say that?"
Click HERE to read more.
EYES ON THIRD UNIT
Why should anyone be concerned with how the camp invitees perform this week? A change in the NBA Development League rules allow Boston to allocate three camp cuts to the Maine Red Claws (provided those players will sign an NBDL contract).
It might not be the most money these players can attract (overseas will pay more), but it's a chance to get a foot in the door with the Celtics organization and maybe work their way to the parent club if injuries or a need arise. For guys like Johnson, it might beat the alternative of spending another year toiling in Turkey.
Red Claws coach Austin Ainge is in attendance for camp and surely has an eye on players that could help his team next season.