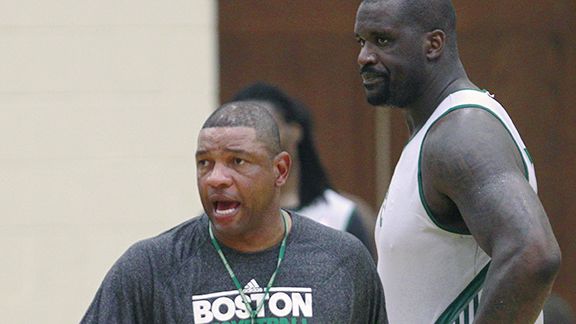 AP Photo/Charles Krupa
The Celtics like a revamped bench centered around offseason addition Shaquille O'Neal."We have to come to work every day. A year ago, we'd come in and take care of business like the Dream Team against the [second unit]. Now we really have to lace them up if we want to be competitive with [the reserves] each day."
-- Paul Pierce on the Celtics' bench players … one season ago
NEWPORT, R.I. -- Against the backdrop of an offseason in which the Miami Heat united three of the NBA's best players and ascended to Eastern Conference favorites, the Boston Celtics are quick to point out that, not only do they still have their own Big Three, they have potentially the best compilation of talent in the league in spots Nos. 4 through 15.
Indeed, the Celtics this offseason signed what would be regarded as a quality starting five in some NBA cities by bringing in Jermaine O'Neal, Shaquille O'Neal and Delonte West, and re-signing Nate Robinson and Marquis Daniels. In fact, those five combined to start a total of 128 games for other teams last season (only Daniels spent the whole season in Boston), and have a combined 2,204 career starts.
Yet all five of those players are expected to occupy reserve roles (at least when Kendrick Perkins comes back from offseason knee surgery sometime around midseason).
Shaq has already dubbed the group the Boston Bench Mob and has been running with a second unit that features the Big Shamrock, Robinson, West, Daniels and Glen Davis, who is suddenly the longest-tenured veteran off the pine. (Jermaine O'Neal has been working with the first unit and is expected to start in place of Perkins.)
Celtics captain Paul Pierce calls this the deepest team he's ever been on and suggested Boston might have the most overall talent in the league.
Which brings us to Pierce's quote at the top of this article -- an example of how things often seem a bit grander in the preseason than they eventually turn out to be.
Click HERE to read the full story.