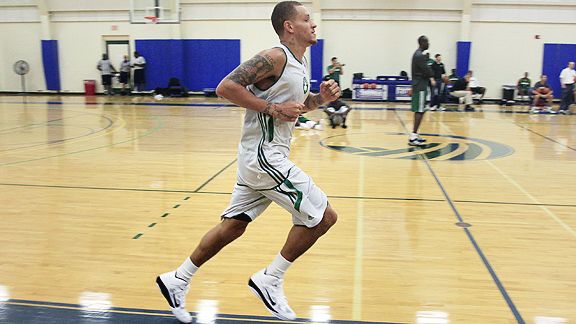 AP Photo/Charles Krupa
Delonte West runs sprints during training camp in Newport.In a return engagement with the Boston Celtics, Delonte West is putting mistakes behind him and embracing a second chance writes ESPN Boston's Peter May;
NEWPORT, R.I. -- He was the last person off the floor on the very first day of practice with his new/old team. There was shot after shot after shot before the final ball bounced away. By then, almost all of Delonte West's teammates were already on the team bus, or posing for photos for a throng of Salve Regina University admirers.

West finished his work, took a towel and a seat, alone, in the bleachers. It was almost as if he wanted to stay where he was, that he wished the workout could go on forever.

West feels at home when his personal boundaries are lines on a court and his every movement is a function of charts, whistles or exhortations. That is where he is at peace and it has been ever since he joined the NBA in 2004.

It's in the world outside those lines, and his actions in that unmonitored space, where he finds trouble. When you are caught speeding on a motorcycle, carrying two loaded handguns, a loaded shotgun and a large Bowie knife, the law steps in and the NBA tends to take notice. West was arrested in an incident in September 2009 on weapons charges, to which he pleaded guilty in July and received eight months of home detention, though the flexible sentence does allow him to play this season.

"That's what happens when you make bad decisions off the court," he said. "It should be a lesson to a lot of younger players because that's how it is. You're judged by the decisions you make. It's up to me to prove that maybe everything you read isn't true. It's a day-at-a-time process. That's what it is. It's on me to prove I am a good person and a great guy, and if that's true, it shouldn't be that hard. I feel blessed to have this opportunity and I want to make the best of it."
Click HERE to read the full story.