NEWPORT, R.I. -- When you're an NBA rookie, even a three-man fast-break drill is enough to raise your adrenaline to a dangerous level.
Which is exactly what happened to Luke Harangody during the Boston Celtics' second training camp session on Wednesday on the campus of Salve Regina University. Lining up at one of the wings in a unit that featured Shaquille O'Neal in the middle and Stephane Lasme on the other side, Harangody sprinted too quickly out of the box, fumbled an outlet pass and missed a layup as the group stumbled through the drill.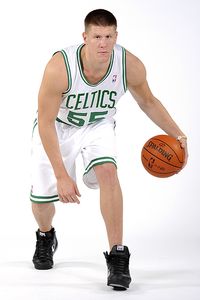 Brian Babineau/NBAE/Getty
Celtics rookie Luke Harangody poses on Media Day.Rivers instructed the unit to run it again and 38-year-old O'Neal -- the same player who had to ask Rivers who Harangody was when his signing was announced on the same day of the Big Shamrock's introduction in August -- shot Harangody a stare typically reserved for an opposing center with sharp elbows.
The group completed the drill with fewer hiccups the second time, with Rivers imploring Harangody to crank up the speed on his way back up the court. Harangody knows Rivers is simply trying to bring the best out of him.
"Doc's been great with me," Harangody said Friday. "I'm a guy that likes to go 100 miles per hour, but I play so much better when I slow down and relax. Today I feel like I finally did that and I probably had one of my better days."
Harangody, a second-round draft choice (52nd overall), isn't playing for a job. No, despite the late selection, he already proved he was NBA ready by starring for the Celtics' summer league team in Orlando in early July, which helped him earn a two-year guaranteed deal.
But even job security doesn't take away any of the pressure when you're a wide-eyed rookie on a team that is likely to boast more future Hall of Famers than first-year players this season.
And despite a penchant for keeping rookies glued to the bench, Rivers said he understands what Harangody is going through, and believes he can contribute this season.
"He just needs to slow down," Rivers said. "It's so much stuff for him now, his head is spinning. He'll get it, but it's going to take some time.
Click HERE to read the full story.