NEWPORT, R.I. -- The obvious question after the Celtics released rookie forward Tony Gaffney Saturday is whether the camp competition for the 15th roster spot is over. After all, it seemed like a two-horse race between Von Wafer and Gaffney at the start of the preseason, so that leaves only one man standing.
But the Celtics did carry an intriguing pair of young players out of camp in Mario West and Stephane Lasme. Both have reputations as being more defensive minded, and West in particular seems to be making a push to stick around thanks a scrappy work ethic that compensates for his lack of offensive skills.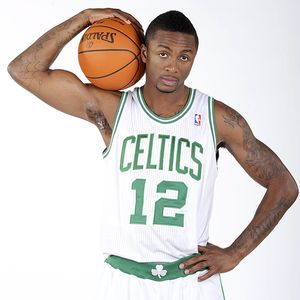 Brian Babineau/NBAE/Getty Images
Von Wafer poses on media day.Could either player truly push Wafer, whose contract is not fully guaranteed, for the final spot on the Boston roster?
Lasme has an uphill battle. Celtics coach Doc Rivers admitted Saturday his skill set is almost identical to Gaffney's, his UMass brethren. But the Celtics like his ability to play both the 3 and the 4, so he's making the voyage back from Newport.
The trouble for West is going to be his lack of scoring punch. In assessing why it didn't work out for Gaffney in Boston, Rivers first pointed to numbers, but also admitted Gaffney's shooting simply wasn't strong enough and the team is looking for more shooting at the wing position.
Yet everyone on the team seems to love West. He's a hard worker with a reputation for kicking in doors after walking on at Georgia Tech. Undrafted, he played his way into a job in Atlanta, where he appeared in 156 games for the Hawks over the past three seasons.
But if shooting is what the Celtics covet at that spot, he's going to have to show great advances.
In his three seasons with Atlanta, West put up 104 shots. According to his shot chart at HoopData.com, only 20 of those shots came from beyond 10 feet. What's more, West only made two of those shots (10 percent). Both West and Wafer can attack the basket, but Wafer has the outside game to complement that skill.
"[West] just plays hard, he's a great energy guy, and he could be a defensive stopper," said Rivers. "He needs to improve his offense, but the guys love him because of the way he plays. He plays the right way every single time and he plays for his teammates. He's a great example of a guy that didn't have great offensive skills, but is still in the league because he does everything else right. And he's a low-maintenance guy.
"It's hard to cut guys like that. We lost a guy like that in [Brian Scalabrine]. Those guys make a difference on your team.
"You want a guy who can come in and play hard each day, compete in practice, make your starters better. That's part of the role. A guy who never complains and, if called upon, can come in and help you."
So essentially Boston's decision may come down to whether it's better to take a skilled offensive player, or a guy who might be a little more willing to put in the work but lacks the ability to offer much more than scrappy play off the bench. Then again, an end-of-the-bench player doesn't see much game action anyway, so it might be more beneficial to carry a guy who can push players in practice.
By carrying West out of camp, the Celtics clearly want to get more of a look at him, particularly in game situations. After being let go by the Hawks, he played 11 games for Boston's D-League affiliate, the Maine Red Claws, last season, averaging 13.7 points, 4.1 assists, 2.9 rebounds and 1.3 steals per game.
The team's choice also could be influenced the circumstances it faces at the start of the season. Delonte West is suspended the first 10 games, while Avery Bradley still hasn't been able to get on the floor after summer ankle surgery and likely will still be working his way back as the year opens.
That leaves a void at the guard spot and the Celtics are going to need someone who can hold the fort until West returns. Wafer seems the preferable choice based on past success in Houston, but he's going to have to prove he deserves that spot in the preseason.
After all, Rivers said he hasn't made his shots in scrimmages quite yet.
"All the new guys, the more they can play with the starters, the more beneficial it is for them," said Rivers. "They're the guy not guarded, so they'll shoot wide-open shots. That's what Von does. He hasn't made a shot in camp yet, but he's a great shooter, he is. I think he's learning from us. Every time he misses, he looks over. I tell him, 'I don't care, it was a good shot.' I want him to keep shooting."
Wafer will need to keep shooting, or West might kick down another door.