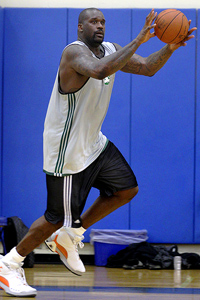 AP Photo/Charles Krupa
Shaquille O'Neal gets his first chance to mesh with the Celtics' starters Wednesday.WALTHAM, Mass. -- What is Boston Celtics coach Doc Rivers looking for during his team's first exhibition game Wednesday evening? Even he doesn't know for sure. But what Rivers does know is that the first game will likely serve as his guide for what to look for moving forward.
"I think preseason games, the first couple, they kind of tell you what you should be looking at," said Rivers, whose squad treks to Manchester, N.H., to host the Philadelphia 76ers in Boston's exhibition opener.
Two things fans shouldn't expect: Jermaine O'Neal (sore hamstring) and extended minutes for the veterans. Rivers indicated he'll run the team through a cardio-heavy practice before making the bus ride north and will settle for a small glimpse at his first and second units before letting the younger players take center stage.
So while Rivers might not know exactly what else he's looking for, here are five things we'll have our eyes on:
* Shaq and the starters
* Delonte at the reserves
* Wafer vs. West
* The "revived" KG
* First look: Erden, Harangody
Click HERE to read the full story.