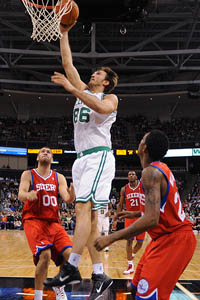 Steve Babineau/NBAE/Getty
Celtics rookie Semih Erden produced a strong effort in his NBA debut.MANCHESTER, N.H. -- Semih Erden admits he understands more English than he's able to speak since arriving stateside. That much was obvious Wednesday night as he sat on the Boston Celtics' bench, an impressive NBA debut behind him, and chuckled at the antics of teammates Glen Davis and Nate Robinson.
Davis playfully dubbed Erden, "Semih Automatic," singing the nickname as the three players sat huddled at the end of the bench. Robinson tried to demonstrate some American dance moves as Young MC's "Bust a Move" played over the arena's PA system during a timeout.
Erden showcased his own set of moves by registering 13 points in a team-high 23 minutes, 44 seconds of playing time in his pro debut as the Celtics thrashed the Philadelphia 76ers 93-65 in their preseason opener at the Verizon Wireless Arena.
"Oh yeah, he can't really communicate with us yet, but we're teaching him a few things," Davis said with a smile after the game. "He looked good out there."
Erden connected on all three shots he took, but also got to the free-throw line, where he drained seven of eight attempts. He filled up his stat line with five rebounds and a team-best two blocks.
"Semih was terrific," Celtics coach Doc Rivers said. "He played great. That's why I kept him out there. I told you before the game I was [going to play him extended minutes] anyway, but he knows how to play. He's very physical."
Click HERE to read the full story.