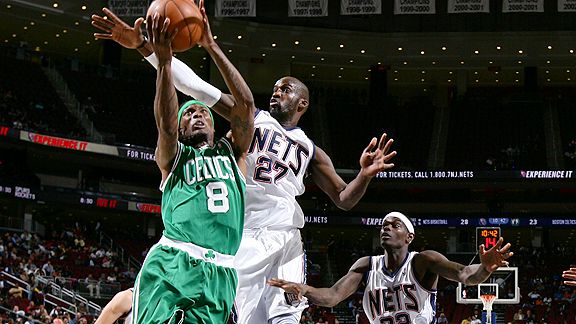 Ned Dishman/NBAE via Getty Images
Marquis Daniels drives to the basket vs. the Nets.NEWARK, N.J. -- For Marquis Daniels, it's all about confidence.
While he maintains he never lost it in himself last season, even as his minutes and production dwindled after missing 28 games for the Boston Celtics due to surgery to repair torn ligaments in his left thumb, it's clear the confidence coach Doc Rivers had in his player did indeed diminish.
In fact, a clean break seemed inevitable after Daniels faded from the rotation by season's end. But the way Boston's summer played out, the Celtics soon realized they needed the type of player Daniels gave glimpses he could be, and Daniels realized he needed to prove that what the team saw at year's end wasn't a reflection on the player he is.
So now Daniels, decked out in a fresh new No. 8 uniform top, finds himself as a key cog in Boston's already ballyhooed bench squad, the top reserve behind Paul Pierce as someone the team is banking on in terms of both minutes and production this season.
And while it's only the exhibition season, Daniels is making great strides in restoring any confidence that might have eroded last season. On a night his bench brethren stole the spotlight, it was Daniels who stepped up and drilled a clutch 3-pointer with 35.4 seconds remaining to help Boston emerge with a 96-92 triumph over the host New Jersey Nets on Thursday night at the Prudential Center.
"It's so early, I don't know yet [if the Celtics are getting what they expected out of Daniels]," admitted Celtics coach Doc Rivers. "But he's healthy and he's playing pretty hard. That was a big shot for him."
Click HERE to read the full story.