NEWARK, N.J. -- A collection of leftover notes and analysis after the Boston Celtics kicked off a new season with back-to-back exhibition games in New Hampshire and New Jersey this week: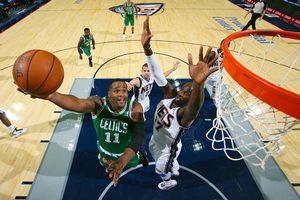 Ned Dishman/Getty Images
Glen Davis may end up embracing his "undefined" role this year with the Celtics.* KG wants to play: Celtics coach Doc Rivers has stressed throughout training camp that he wants forward Kevin Garnett to take more breaks during practices. Garnett hasn't obliged often, but Rivers does have the power to force him off the court in games.
Garnett gave Rivers some playful grief after being pulled less than five minutes into the second half Thursday night against the Nets. Garnett hadn't been particularly crisp and clearly wanted a little more action.
"Our starters kinda cruised into the game, but they did turn it on," said Rivers, whose first unit let New Jersey score the first nine points of the game, but atoned by building a comfortable cushion early in the second half with more inspired play.
"Coming out of [halftime], I told [the starters] you got six hard minutes. That's why Kevin was mad, because it was five minutes. He knew the exact time, which is good."
Garnett finished 2-of-8 shooting with five points, four rebounds, and a block Thursday. He missed all four shots he attempted Wednesday against Philadelphia. He's clearly still working out the preseason kinks, but he definitely has a hop in his step this season and has been particularly vocal on the bench, supporting Boston's reserves.
* Baby thriving in latest role: Celtics forward Glen Davis made headlines at the onset of training camp by expressing disappointment in the lack of a defined role. Rivers essentially squashed the matter by saying Davis should know his role or sit on the bench.
Two games in, Davis is utilizing the versatility of having played both near the basket and on the perimeter in recent seasons to thrive with Boston's new mix-and-match bench. For the second straight game, Davis got to the foul line for 10 attempts, generating points by drawing contact around the basket. On Thursday, Davis connected on a team-high six field goals while scoring 20 points in 28 minutes of action.
His role might not be defined, but not being pigeonholed to one area of the floor seems to be allowing Davis to flourish.
Click HERE to read the full story.