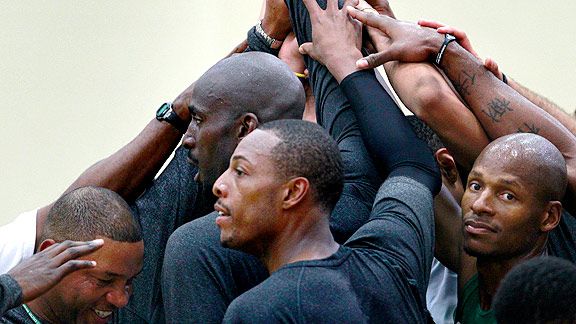 AP Photo/Charles Krupa
The Celtics aren't seeing much competition this exhibition season.So what are we learning about the Celtics as they breeze through their exhibition game schedule? Not much, but Doc Rivers is fine with it writes ESPN Boston's Peter May:
WALTHAM, Mass. -- Doc Rivers always hated the exhibition season as a player. The Celtics' coach vividly remembers one training camp in which his play was so uninspiring that his coach, Mike Fratello, told him: "If I didn't know you, I'd cut you. That's how bad you've been."

The previous season, Rivers had made the All-Star team.

Such is life in the NBA for the first three-plus weeks of October. For the Celtics, life so far in 2010-11 has been good in one respect -- there are no road games more than a one-hour flight away. For Rivers, who spent four-plus seasons as head coach of the Orlando Magic, that is huge. "It seems we never had a game closer than two to three hours away," he said of his days in Orlando. "That was brutal. Three-hour flights in preseason?"

Despite the easy travel, there are downsides to playing the Knicks, Nets, Sixers and Raptors twice each. One is that those teams are not very good; the recent poll of general managers had 100 percent of them agreeing that the Celtics would win the Atlantic Division. The other is that they all are teams in the Celtics' division who will play Boston four times each during the regular season.

So, really, what can we glean from the Celtics' summary disposal of the Sixers in Manchester, N.H.? Or from their squeaker over the Raptors on Sunday night?

Nothing.

"The one thing you cannot do in the exhibition season is use it as a guide as to how good you're going to be," Rivers said Monday after practice, before the team headed to Philadelphia for a rematch with the Sixers. "All the teams are using different combinations and trying different things."
Click HERE to read the full story.