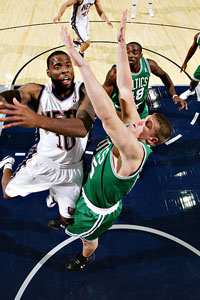 Ned Dishman/NBAE/Getty
Celtics rookie Luke Harangody turned in a solid performance Tuesday vs. the 76ers.PHILADELPHIA -- Celtics coach Doc Rivers was ready to sub center Jermaine O'Neal back into the game with a little over four minutes remaining in the first half Tuesday night against the 76ers, but rookie forward Luke Harangody heated up so quickly, Rivers pulled O'Neal back to let the group on the floor keep playing.
Harangody scored eight points in 61 seconds, hitting three consecutive shots to help Boston erase a five-point deficit and lead at the intermission. He finished 4-of-5 shooting with 11 points and three rebounds over 14 minutes. What's more, Harangody spent time at the small forward, getting a glimpse of his potential to fill minutes at a position Boston is somewhat thin on, and had one of his better defensive games.
After a couple of dizzying weeks to start his professional career, it's clear everything is starting to slow down for Harangody.
"I don't know if we can slow him down right now, but he's playing good," said Rivers. "It's good to see him make shots. That's what he does: the back-to-back 3's were good. He's going so fast at times but he's getting it.
"The fact that he's starting to get our coverages is better. I'm more concerned with him -- and all the [new] guys -- getting our defensive coverages down. We're getting there."
With five minutes to play in the first half, Harangody showcased some of his potential. He picked up a steal against 76ers rookie Evan Turner, then canned a 12-foot jumper at the other end of the floor. On the next two offensive trips down the floor, he drilled trifectas (both feeds from Nate Robinson) and the second one in front of the Boston bench had Rivers pumping his fist in excitement.
It's clear Harangody has potential at both ends of the floor. He came out on the floor for warm-ups Tuesday and drained seven consecutive mid-range jumpers (the shot might not be the prettiest as he crosses his hands after release, but it does the trick). Meanwhile, Kevin Garnett is whooping Harangody and the rookie bigs into shape on defense.