Chris Forsberg/ESPN Boston
A look from outside Madison Square Garden in New York City.NEW YORK -- Greetings from Madison Square Garden, where the Boston Celtics visit the New York Knicks for the first of two preseason matchups over the next four days.
One night after resting much of its starters in Philadelphia, Boston is expected to trot out an A lineup, including a starting five that should feature the Big Three, Rajon Rondo and Jermaine O'Neal. Celtics coach Doc Rivers said Tuesday he wants to get a look at O'Neal with the starters, something that hasn't occurred yet this preseason, and suggested that 38-year-old Shaquille O'Neal might get a second maintenance day as he rests sore hips.
"I do want to get as many of our guys back in [Wednesday] and then we have another back-to-back in a day after that," Rivers said after Tuesday's game. "We have to make a decision there."
The decision shouldn't be hard to predict. The Celtics will trot out their starters against the Knicks, then return to rest mode Friday night in Toronto, so that the starters can play bigger minutes in front of a "home" crowd when the Knicks trek to Hartford for another exhibition game Saturday night.
The Celtics did not practice before Wednesday's game, so all available players should be pushed hard. It will be interesting to see if rookie Avery Bradley can bounce right back one night after his surgically repaired ankle tightened up in the second half against the 76ers, or whether Delonte West gives it a go after sitting out in Philadelphia with lingering back spasms.
Boston should be in a celebratory mood as Oct. 13 is the Big Three of birthdays with Rivers (49), Paul Pierce (33) and Jermaine O'Neal (32) all born on this date. Hopefully the rookies iced their vocal chords as plenty of singing likely awaits this evening.
More to come after pregame locker room access.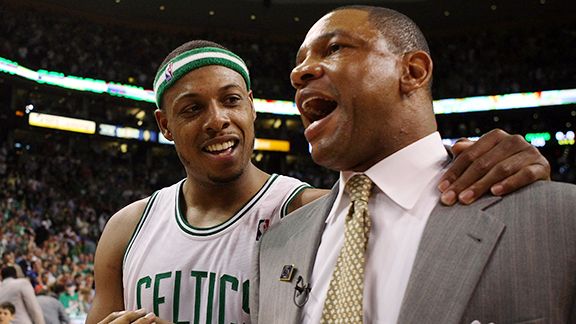 Elsa/Getty
Two of today's three birthday boys.