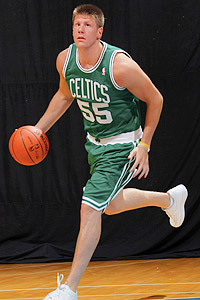 Layne Murdoch/NBAE/Getty
Luke Harangody made himself at home at Madison Square Garden Wednesday.The life of a rookie: One moment you're on top of the world after producing your first NBA double-double on a familiar court, the next you're forced to sing Happy Birthday in front of all the veterans in the locker room and get assigned the thankless task of hauling a birthday cake to the team bus.
Celtics second-round draft choice Luke Harangody made the most of extended minutes Wednesday night in New York, chipping 16 points and a game-high 12 rebounds over 22 minutes in Boston's 104-101 triumph over the Knicks. This one night after a solid stretch against the 76ers and it seemed like Harangody was asserting himself as a potential role player off the Boston bench despite a low draft position (52nd overall).
Harangody wasn't in danger of developing a big head, but his teammates took him down a peg, anyhow. Harangody joined the rest of the Celtics' rookies in singing Happy Birthday to Paul Pierce, Jermaine O'Neal, and coach Doc Rivers after Wednesday's game (the trio were all born on Oct. 13). For good measure, he also had to grab the box containing the chocolate-frosted cake and lug it to the team bus as he departed the locker room.
It's a pretty fair trade-off for what the veterans have been doing to help him on the court.
"My confidence level is getting better every day," said Harangody. "The veterans have been great with me just pulling me to the side at practice and letting me know I was going 100 miles per hour out there. They tell me, 'Just relax and play your game. Everyone knows what you can do.' Every game it's getting better and better."
Indeed, Harangody connected on three consecutive shots in a 61-second span against Philadelphia, scoring 8 of the 11 points he produced that night. Coupled with his New York effort, Harangody has made 8 of his last 14 attempts (57.1 percent) while chipping in 27 total points. This after connecting on just 2 of his first 13 preseason attempts (15.4 percent) over a three-game span.
"Luke was stellar," Pierce said after Wednesday's game. "He's been gaining his confidence. We've seen him in practice. He played well just the other night [vs. Philadelphia] and it carried over. Coach just said, 'You're going to go out there and make mistakes,' but he continued to play hard and it showed."
For his part, Rivers couldn't resist a small jab after Harangody's effort in New York.
"I think he thought he was in the Big East tournament," said a smiling Rivers, referring to the Madison Square Garden venue after Harangody's exploits with Notre Dame. "He was playing terrific. He was shooting the ball. We're trying to get him to try and think: Shoot. Don't just shoot when you're open, shoot the ball and keep the game simple. We're thinking that will slow him down. He's a monster on the glass, he just works hard. It's good for him, I think he needed it."
Most impressively, Harangody showed that, even with his undersized frame, he can still compete on the glass. That will ease concerns about whether he's too small to battle at the power forward spot (heck, he even guarded centers at times against New York).
"All through college, I kind of had a knack for the ball," said Harangody. "I started to put a body on my man, finally, and it kind of gets me loose to go to the basket."
RIVERS EXPECTS INJURY BUG TO LINGER THIS SEASON
Having just detailed injuries that would sideline Shaquille O'Neal and Delonte West Wednesday night, Rivers was asked about experimenting with a shooter-heavy lineup featuring Glen Davis and Kevin Garnett. He smiled and noted that Big Baby's knee had been sore and that he wasn't likely to play much that night (he ultimately sat out the entire game and Garnett got ejected in the second quarter, anyhow).
Rivers admitted this will be a familiar challenge for Boston throughout the season.
"I think we're going to deal with that all year, that would be my guess," said Rivers. "I don't think we're going to be a team that's healthy all year, i can almost guarantee that. But that's why our bench is so important. We need our bench this year in order to get to the playoffs. We have to log heavy minutes during the regular season for Paul, Kevin, and Ray. Honestly, I don't know if it would bode well for us in the playoffs [if the veterans were forced to log heavy regular-season minutes]. And to think that Shaq and JO will be healthy for 82 games -- I'm hoping that's the case, but I'm not going to count on that. We're going to need guys to fill in.
"That's the problem with the East, you still gotta win games and that's what we're going to have to do."
PROGRAMMING NOTE: NO, CANADA
Your humble blogger is scheduled to see seven of the Celtics' eight exhibition games this preseason with Friday's game in Toronto the lone contest we're not attending. Like the regular-season games we're unable to attend, we'll still have our eyes on the action from afar and typically we'll pass along some postgame observations in the blog. And if any news comes up, we'll do our best to reach out to the team on the road and update you as best we can. Fortunately, in this case, the Celtics return home quickly, with an exhibiton rematch against the Knicks on Saturday in Hartford, Conn.