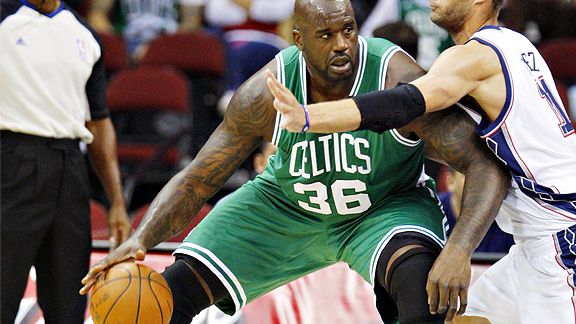 Jim O'Connor/US Presswire
Shaquille O'Neal wants only one award in Boston: a world title.Shaquille O'Neal has a shot to be just the second NBA player (behind Bill Walton) to win a Sixth Man Award after previously being an MVP. Impressive? Not to him writes ESPN Boston's Peter May:
BOSTON -- The tradition goes back more than a half-century. Red Auerbach pretty much originated the now-hallowed concept of a sixth man. It was a designation signifying devotion to the team and unselfishness, a 1950s-60s version of ubuntu, if you will. Frank Ramsey originated the role, which was then passed on to John Havlicek (or "Hondo"), who was the sixth man on a handful of Celtics title teams.

There was no logical successor in the 1970s, although Nate Archibald once anointed Jeff Judkins as "Baby Hondo." In hindsight, that appears to be a bit of an overreach. But Kevin McHale stepped into the role in the early 1980s, and, in 1984 and 1985, won the NBA Sixth Man Award, given to the player the media deems to be the most important reserve in the league. (The award was first handed out in 1983 to Philly's Bobby Jones.)

Dick Raphael/Getty Images

Bill Walton is the only player in NBA history to win both the MVP and Sixth Man awards.Then, in 1985, Bill Walton came to Boston. He was eight years removed from a season in which he averaged 18.9 points, 13.2 rebounds, a stunning 5 assists and 2.5 blocks a game. He was named the NBA's Most Valuable Player that season, 1977-78, and, in his first (and only healthy) season with the Celtics, he took the Sixth Man Award in 1985-86.

To this day, he remains the only player in NBA history to win both the MVP and Sixth Man awards. Could Shaquille O'Neal be the second?

Like Walton, Shaq is coming to Boston at the end of his career.

Like Walton, Shaq has an MVP award; his is from the 1999-2000 season.

Like Walton, Shaq was named to the NBA's top 50 all-time players list more than a decade ago.

Like Walton, Shaq wants to win another championship (Walton had won one with the Blazers in 1977) and, like Walton, Shaq professes to be a student of the game.

And Shaq wants nothing to do with the Sixth Man Award.
Click HERE to read the full story.