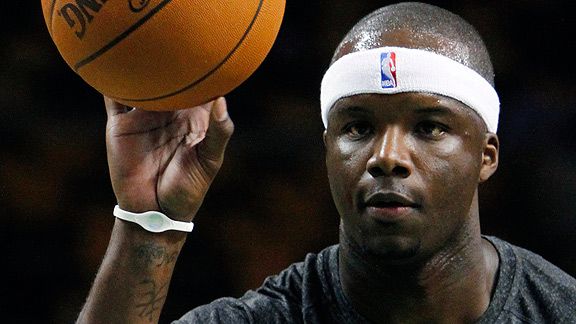 AP Photo/Michael Dwyer
Celtics center Jermaine O'Neal has been nagged by small injuries this preseason.BOSTON -- The Boston Celtics wrap up their eight-game preseason schedule Wednesday evening with a visit from the New Jersey Nets. And, for the eighth straight game, Celtics coach Doc Rivers won't have his full lineup available.
In a season in which every bit of Boston's success is tagged with an "if they stay healthy" disclaimer, the Celtics will complete their entire preseason slate without ever boasting their full complement of players.
Rivers seemed somewhat frustrated by that prospect after Tuesday's open practice session for season-ticket holders at TD Garden, particularly while discussing how Jermaine O'Neal is unlikely to play in Wednesday's game.
O'Neal has only appeared in four games, logging about 15 minutes per contest.
"Jermaine won't play [Wednesday], it doesn't look like," Rivers said. When pressed on the severity of the injuries affecting O'Neal, Rivers said only that his hand and back were bothering him.
"He didn't do anything today," Rivers added. "That's rest; that's injury. It's disappointing, to be honest. He has not had the preseason that we would have liked him to have had. Sometimes you just can't avoid it."
The Celtics haven't been able to avoid the injury bug over the past two seasons, starting with Kevin Garnett's injured knee late in the 2008-09 season, followed by an injury-filled 2009-10 campaign that culminated with Kendrick Perkins' knee injury in Game 6 of the NBA Finals.
Now, in addition to Perkins being sidelined until midseason, the Celtics have been hindered by small but nagging injuries as the regular season nears.
Click HERE to read the full story.