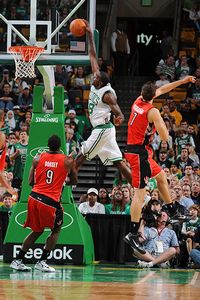 Steve Babineau/NBAE/Getty
Even big dunks like this couldn't keep Stephane Lasme on the Boston roster.Stephane Lasme, waived by the Boston Celtics after Wednesday's exhibition finale, expects to sign a contract with the Maine Red Claws of the NBA Development League if no other guaranteed NBA contract is offered this weekend, according to his agent Andy Miller of ASM Sports.
Lasme, a University of Massachusetts product, made a strong impression after being invited to Celtics' training camp, but could not usurp Von Wafer for Boston's final roster spot coming out of the preseason. Both Lasme and Mario West were waived Wednesday.
The Celtics can funnel Lasme directly to their D-League affiliate thanks to a new allocation rule that allows parent clubs to channel their final cuts to the minor leagues so long as the player will sign a D-League contract. Lasme could always rejoin the team later in the season (enjoying a salary boost from being added to the 15-man roster) if they desire his talents again.
Boston can submit a list with up to three names of final cuts they wish to send to the Red Claws. It's expected that Lasme could be joined by rookie Tiny Gallon, signed earlier this week to work out for Boston. Gallon did not appear in a preseason game for Boston, but worked out with the team on Tuesday and Wednesday.
News of Lasme's intentions to join the Red Claws was first reported by A. Sherrod Blakely of Comcast SportsNet.
(Read more about Lasme's basketball journey, HERE. We'll update this post with more details later this evening).