Chris Forsberg/ESPN Boston
Kendrick Perkins draws up a final play for the reserves.WALTHAM, Mass. -- A collection of news and notes after the Boston Celtics practiced Saturday afternoon at the Sports Authority Training Center at HealthPoint:
DOC PUTS CLIPBOARD IN PLAYERS' HANDS
A few times each season, Celtics coach Doc Rivers puts the clipboard and dry-erase marker in the hands of his players during situational work and tells them to map out the final play.
Sometimes his players surprise him, like when little-used guard Gabe Pruitt drew up a play that the team actually incorporated later and won a game with on a final possession. Other times, even when his players simply run something out of Rivers' playbook, it fizzles. Like when Kendrick Perkins took the clipboard Saturday.
Perkins, rehabbing from offseason surgery to repair the torn ACL suffered in Game 6 of the NBA Finals, instructed Boston's reserve unit to run the tam's familiar "Floppy" set, hoping to spring Von Wafer for a 3-pointer. A bad pass from Nate Robinson contributed to the play blowing up and Robinson lofted a 28-foot rainbow that clanged off iron.
"I gotta do something to be involved, right?" deadpanned Perkins, who said he enjoys joining his teammates for the end of sessions after getting in his own rehab. "No, we needed a 3[-pointer] because [the reserves] were down 6. I called one of Doc's plays, but we didn't execute it right. I told them to run 'Floppy' out of bounds with a back-pick for Von, but it didn't work.
"I was really trying to win, trying to beat the Green Team [Boston's starters]. But it didn't work. Doc let us coach ourselves today and that was a good thing."
Especially for Rivers, who doesn't mind the long view he gets when he gives up the clipboard.
"I didn't know what the hell [Perkins] was going to design," Rivers joked. "We've done that last couple days, let the players run the scrimmage. It tells you a lot as a staff: Who they think should shoot, who's taking the ball out -- they run all that stuff, which is amazing. It's good that they're doing it, it makes them think."
Rivers crowned Rajon Rondo and Ray Allen the team's kings of drawing up quality plans (nothing that, "Ray's are always for himself; He's the smart one.") Perkins suggested that no big man should ever be trusted with the clipboard, while Glen Davis scoffed at the notion, saying all his plays work (It should be noted that Davis famously called one of Doc's plays during a practice last March and it worked).
River said the team works on situational work every day, whether it's in a scrimmage or to close out practice. He noted that the idea for the exercise actually came from his days with the Hawks when Mike Fratello allowed him to draw up a final play based on something Rivers saw on the floor.
"We won the game on it and that was last time he let me do it," joked Rivers. He plans to keep letting his players doodle, even if it's just during practice.
"You learn a lot, actually," said Rivers. "First, you see what they're thinking. You find out who should take the shot, who should be in the game, and who they think can make plays. I think what they learn is that they get frustrated when guys don't execute, then I can say, 'Yeah, that's how I feel all game.' It's a good learning tool."
One player uninterested in drawing up plays: Shaquille O'Neal.
"I'm not a coach," said O'Neal. "And I have no aspirations of being a coach."
SHAQ THINKS BIG PICTURE WHEN IT COMES TO HEAT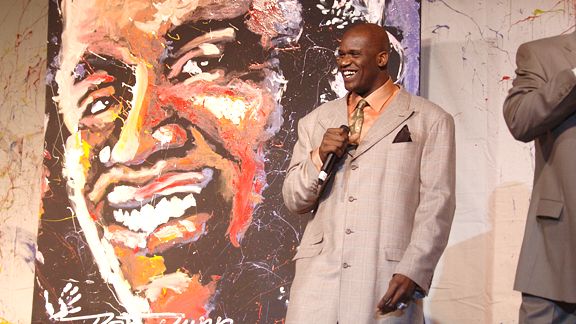 Barry Gossage/Getty Images
Shaq on the season-opener? He's thinking big picture.Shaquille O'Neal isn't getting caught up in the hoopla of Tuesday's season-opener against the Miami Heat.
"I've been around for a long time and the focus is on the winning the last game," said O'Neal. "I focus on the big picture. When I'm looking at my artwork, I'm always looking at the big pictures -- The Picassos. The one that y'all have to go through the thumb fingerprint security to look at. I never worry about the little photographs. I'm always worried about the big pictures.
"It's going to be a nice game, highly watched, but both teams still have 81 games left after that. Whatever happens, it will not make us or break us."
Kevin Garnett agreed, scoffing at the suggestion that opening night could be perceived as a statement game.
"It's too early for all that, man, it's the first game of the year," he said. "There's no statement, it's Game 1. You want to establish home, you want to play well, and you want to continue to do the things we've been doing -- for the most part, we've been sharing the ball, moving the basketball, and playing with good chemistry. You gotta continue to ride that wave."
AFTER TWO MARATHON SESSIONS; C'S PLAN TO DOWNSHIFT SUNDAY
After calling Friday's three-hour session a bit of a mess, Rivers emerged far more pleased with his team's effort while putting in a two-and-a-half-hour session Saturday. With that in mind, the Celtics will drop down a gear Sunday and practice only an hour as they prepare for Tuesday's blockbuster against the Heat.
"I guarantee if we got an hour and a minute, then I'll have to pay the guys for that," said Rivers.