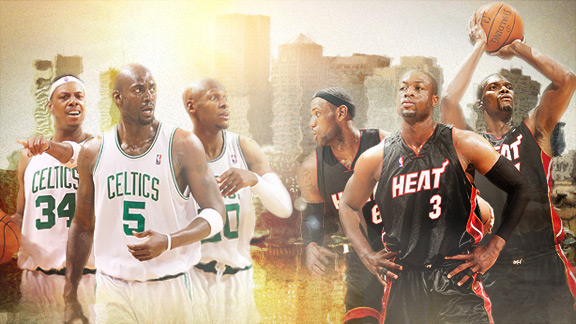 ESPN.com Illustration
A Battle of Big Threes? That might be an oversimplification.Go ahead, label Tuesday night's season-opening showdown between the Boston Celtics and Miami Heat at TD Garden "The Battle of the Big Threes." You wouldn't be wrong, but even the folks inside Boston's locker room would be hard-pressed to argue that such a matchup is much of a battle.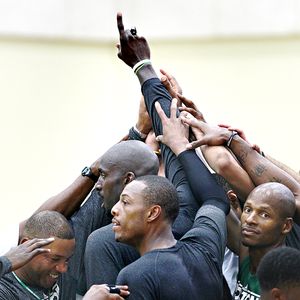 AP Photo/Charles Krupa
The Celtics, who established a special bond before winning the NBA title in 2008, think they've rekindled that chemistry.No, the Celtics will acknowledge -- in so many words, at least -- that at this point in their basketball lives, Miami's triumvirate of LeBron James, Dwyane Wade and Chris Bosh is superior to Boston's threesome of Paul Pierce, Kevin Garnett and Ray Allen.
The members of the James-Wade-Bosh troika are in their prime, with Wade the oldest at 28 (with Bosh 26 and James 25), while the Pierce-Garnett-Allen triad has 41 combined seasons of experience and a closing window of opportunity (even if Pierce, the youngest at 33, suggests that window is open for at least the next four years that he is under contract with Boston).
Now, you can debate until you're blue in the face whether the 2010 Miami Thrice could have hung with a fictional Boston Three Party assembled in, say, 2004 (Garnett's MVP season with the Timberwolves). But this season, it's really no contest.
As Pierce said on the eve of the NBA's epic season opener: "Nobody has seen that type of talent on one team."
True, no one has seen three players of this stature -- and at this stage of their careers -- come together during one offseason. But while Miami stole all the offseason headlines this year, the Celtics are hanging their hat on a below-the-radar offseason in which they assembled what they believe is the deepest team in the league.
And if you're talking about a Battle of Big 15s, the Celtics like their chances.
Click HERE to read the full story.