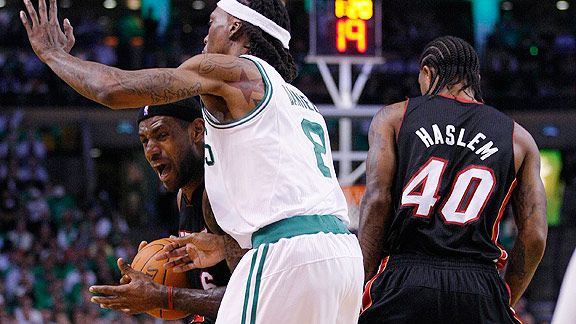 David Butler II/US Presswire
The Celtics offered much resistance against LeBron James and the Heat.BOSTON -- First impressions after the Boston Celtics defeated the Miami Heat 88-80 in the NBA season opener Tuesday night at TD Garden:
HOW THE GAME WAS WON
Ray Allen scored a team-high 20 points, connecting on 5-of-8 trifectas, including a monster corner 3-pointer (with LeBron James scrambling to cover) to essentially seal the game with 49.8 seconds to play after the Heat had cut Boston's lead to three. Paul Pierce added 19 points and nine rebounds, while Kevin Garnett produced a double-double with 10 points and 10 rebounds. LeBron scored a game-high 31 points for Miami, while Dwyane Wade chipped in 13 points and Chris Bosh finished with 8.
TURNING POINT
In a cringe-worthy first quarter (in which the teams combined to shoot 29.7 percent) and the Heat mustered a mere 9 points, the Celtics opened a 7-point cushion, but stretched it out early in the second quarter behind the second unit. Marquis Daniels connected on a trio of shots, including two layups and a little pull-up, and Boston's lead ballooned to 31-15 after a fast-break dunk by Nate Robinson.
STAT OF THE GAME
The Heat shot a mere 36.5 percent (27-of-74), including 23.5 percent (4-of-17) in that first quarter. Boston leaned on its defense when it needed it most.
UNSUNG HERO
Glen Davis scored 13 points on 6-of-7 shooting over 29 minutes with Jermaine O'Neal still in preseason form. Davis scored a couple of monster fourth-quarter hoops to keep the Heat at bay.
WHAT IT MEANS
The Celtics, the defending Eastern Conference champs, can continue to state that the road to the conference crown goes through Boston after dispatching the much-ballyhooed Heat (and doing it in convincing fashion). Now the grind of an 82-game season really begins and Boston's veteran roster gets its first taste of a back-to-back Wednesday night in Cleveland. As can be expected, there were positives (Boston's overall defense) and negatives (20 turnovers), but maybe the Celtics' ability to win a big home game -- something it failed to do much of last season -- is most encouraging.