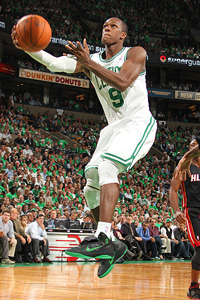 Nathaniel S. Butler/NBAE/Getty
Rajon Rondo drives to the hoop Tuesday against the Heat.BOSTON -- Rajon Rondo's stat line doesn't immediately jump off the page. In Boston's season-opening 88-80 triumph over Miami Tuesday night, he chipped in a mere four points on 2-of-9 shooting, didn't get to the free throw line, grabbed five rebounds, and generated two steals over more than 41 minutes of action.
Then you notice the 17 assists and realize 1) Rondo generated more assists than the entire Heat roster (15) and 2) Probably deserved a few more assists had Kevin Garnett and Shaquille O'Neal been able to finish some bunnies around the rim.
"Well, there wasn't a lot of points, so there wasn't a lot of assists," said Celtics coach Doc Rivers. "But Rondo was just -- I thought he was spectacular."
And that feeling was echoed in the Celtics' locker room, where new bigs like Shaq and Jermaine O'Neal gushed about Rondo's ability to get them the ball. In fact, they're still learning just to expect the ball in places other guards can't put it.
"My last six or seven years, I really haven't had a point guard like [Rondo]," said Shaquille O'Neal. "Now I'm just getting back to what I'm used to. If I'm by the basket... I just gotta be ready."
And with someone like Rondo distributing the ball, Celtics backup point guard Nate Robinson noted the team can focus most of their energy on defense.
"We know we have guys who can put the ball in the basket with ease," said Robinson. "We're not worried about offense; We're gonna score. Shaq opens up the paint, [Kevin Garnett] as well, and Rondo finds the right guy. He had what, like 18 assists?"
Seventeen. But in a year where "It's all about 18," Robinson can be forgiven.