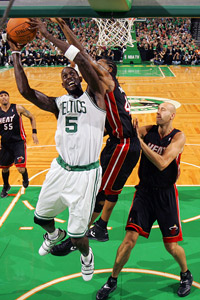 Nathaniel S. Butler/NBAE/Getty
Kevin Garnett and the Celtics looked good in the season-opener, then delivered a dud in Cleveland.Nothing like an old-fashioned Celtics fourth-quarter meltdown to trigger bad memories of last year's up-and-down regular season for our faithful readers. All the optimism generated from Boston's season-opening triumph over the new-look Heat seemed to wash away with one (questionable?) 3-pointer by Anthony Parker that essentially sealed the Celtics' fate in Cleveland Wednesday night.
Maybe this postgame submission to the mailbag summed it up best.
Oh c'mon! We just got off the damn roller coaster and they're making us get right back on. I'm still nauseous from last year. Where can I get a nine-month supply of Dramamine? -- Dave (Mansfield, Mass.)
After enduring Boston's 27-27 finish to the 2009-10 season, it's understandable why some would feel a little green around the gills watching the Green stumble in Cleveland. If it's of any solace, Dave and everyone that sent similar sentiments, I do think these type of "oh c'mon" losses will be far less frequent this year. It's still somewhat concerning that this one had "trap game" written all over it, and Boston still got snagged in the net.
As we buckle in for another season of Celtics basketball, Dave in Mansifeld isn't the only one fretting already.
You are going to get this question a lot after the Cleveland game: Are we in for another regular season like last year? I don't have any gray hairs yet ... and I'd really like to keep it that way. -- Tom (Orange City, Iowa)
Let's talk some folks down from the ledge with the first Celtics Mailbag of the 2010-11 season.
Click HERE to read this week's mailbag.