BOSTON -- Celtics center Kendrick Perkins could have been forgiven if he decided to stay home rather than attend Tuesday's season-opener against the Miami Heat. As he has admitted, it's not easy for a competitive person to sit idly on the sideline, unable to help his team. It's part of the reason he retreated to the locker room during Game 7 of the NBA Finals against the Los Angeles Lakers, just two days after tearing his anterior cruciate ligament with Boston on the brink of a world title.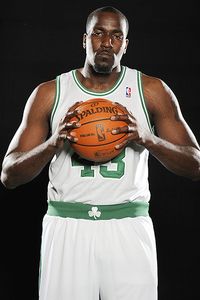 Brian Babineau/NBAE/Getty
Celtics center Kendrick Perkins is eying a mid-January return.Instead, Perkins marched into the locker room Tuesday looking sharp in a charcoal suit and lavender dress shirt, then apologized to reporters for not being able to talk as he hurriedly changed into his game shorts.
"I gotta get out on the court," said Perkins. "Gotta keep up my pregame routine."
Perkins isn't the type to sit around and mope about his situation. Each day is one day closer to getting back on the court and that's all he's thinking about during the grind of rehab.
"Honestly, I just think it depends on who you are. A mentally strong person would get through it," Perkins said when asked about the rigors of rehab. "If you're the type of person who wants to sit back and have people feel sorry for you, then it might be a long road. But if you put your focus into it, and you put your all into it, the sky's the limit.
"I think you can come back better than ever with the time you've got off and the different things you can work on. I'm putting a lot of time into my body, my touch shooting, stuff like that, just to get better."
Perkins smiled when a reporter suggested he should be a 90 percent free-throw shooter when he returns. Given his limited mobility as he recovers, that's one of the few activities he's been able to do routinely since shedding crutches over the summer.
With that in mind, Perkins said he's been making 300 free throws each day (on 300 attempts, he joked) and that's a small glimpse into the perspective he's gained from being sidelined.
"Last year? I was probably shooting about 50 per day, knowing it should have been more," said Perkins, a career 60.4 percent free-throw shooter, who admits the charity stripe is a weaker part of his game. "When I got hurt, you gain this great appreciation about the game. You don't want to be in that position again. There are times, probably everybody goes through it, where you take it for granted. That nothing can happen to you, that you'll just play basketball and be healthy."
Perkins reaffirmed that he's ahead of schedule in his recovery, but didn't want to guess at how far. He did peg a potential mid-January return.
"I don't know how far ahead of schedule I am, I just know that I feel better than my body really is," said Perkins. "I gotta listen to the doctors and they'll tell me what's best for me. If I had a choice, I'd play tonight."
Perkins looks in good shape, having dropped weight after surgery in July. He did note that, while he's lighter, his body fat is up and he needs to cut that number moving forward.
"I just started lifting weights about three weeks ago," said Perkins. "I still have two or three more months to stay in the weight room, polish up my free-throw shooting and my jumper, stuff like that. Every week I'm gradually going to another stage."
And after that brief chit-chat, he excused himself and headed out onto the court for another workout. While he acknowledged that it's somewhat easier to stomach being on the sideline since Boston beefed up its frontcourt with the addition of the O'Neals -- Shaquille and Jermaine -- he also stressed that they can't bring what he brings (which is a top defensive presence alongside Kevin Garnett).
Even Celtics coach Doc Rivers admitted his absence has been harder to endure than he imagined from a coaching standpoint.
"I'm surprised at how difficult that's been," admitted Rivers. "I think we all take it for granted when we've had the same starting 5 for three years, going into the fourth now. But it showed in training camp. Last year, when I said, 'Four Down, let's put in Four Down,' the starters ran on the floor and executed it. Now I do that and four guys execute it and we got one guy going the wrong way, so we have to teach the whole thing. It really taxes our [returning] starters. They knew it and there were four times in training camp that Rondo, with his IQ, called a set fro last year that we hadn't put in yet. That was great for the four guys, but JO and Shaq were looking around like, 'Did I miss something?' That's where we're behind. And that's where we underestimated the value [of Perkins]."