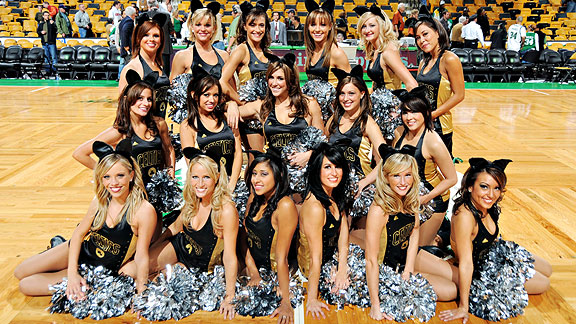 Brian Babineau/NBAE/Getty Images
Boston's cheerleaders got into the Halloween spirit back in Halloween 2008.A glance at our stories after the Boston Celtics enjoyed an offday Saturday:
All it took was one loss for Celtics coach Doc Rivers to decide his squad needed a mild wakeup call. So Friday morning, before his team hosted the New York Knicks, Rivers gathered his troops and explicitly defined individual roles moving forward, handing out a set of marching orders aimed at reminding players what's expected of them this season.

More importantly, it was a reminder that, with such a collection of talent, unnecessary losses would not be tolerated.

Rivers told Kevin Garnett to be more selfish. KG responded by hoisting 17 shots Friday, scoring 29 points and grabbing 10 rebounds. Rivers reminded Paul Pierce that the Celtics thrive when he's active on the glass. Pierce promptly swiped 14 rebounds, easily the most he's hauled in during the Big Three era, while adding a team-high 25 points. Rivers instructed Rajon Rondo to find a healthy balance between being a playmaker and contributing elsewhere. Rondo proceeded to register a triple-double with an eye-popping 24 assists.

For Boston, it all added up to a gritty 105-101 win Friday. Sure, it was a little too close for comfort at times, particularly as turnovers allowed the Knicks to stay in the game and claw within a bucket late. But the Celtics emerged with a win, something that evaded them Wednesday night in Cleveland.

And wins are an expected byproduct of players performing their roles.

"It wasn't a team meeting really, just a defining of the roles," said Rivers. "I do it every year. I pick and choose the timing, whenever I think the team needs it. The way the day shook out, it was perfect timing. I didn't anticipate that after the roles that we would be rolling in the locker room, but it was clearly the right time."

The "rolling" Rivers referred to was a fistfight between reserve guards Delonte West and Von Wafer following a spirited game of 3-on-3 after the team meeting. It's the last thing the Celtics needed coming off the disappointing loss to the LeBron-less Cavaliers, but by the end of the night it was an afterthought thanks in large part to Boston's strong individual play on the floor.
Click HERE to read the full story.
HALLOWEEN IN GREEN AND WHITE
Our good friend Jimmy Toscano from CelticsBlog caught up with some of the Celtics about their favorite Halloween memories. Check out a sampling below.
It's Halloween again, which means costumes, candy, and a trip to the dentist. It also means that Glen Davis can now justifiably walk around looking like Shrek, or another popular movie character.

"I was thinking about being Kazaam," Davis said laughing. "That would be funny."

Davis is of course referencing the 1996 comedy, "Kazaam," starring Celtics center Shaquille O'Neal as a "rappin' genie with an attitude".

That was most likely the first time Shaq was in costume since he stopped trick-or-treating... at age 10.

"My thing with Halloween was every time I used to go out, people used to look at me like, 'You're too big to be trick-or-treating.' So I stopped at age 10, seriously.

"I used to go out and they'd be like, 'How old are you?'

"I'm like, 'I'm ten.' [They'd say], 'Get out of here, you're 18. Beat it.' So I just stopped going."
Click HERE to read the full story.