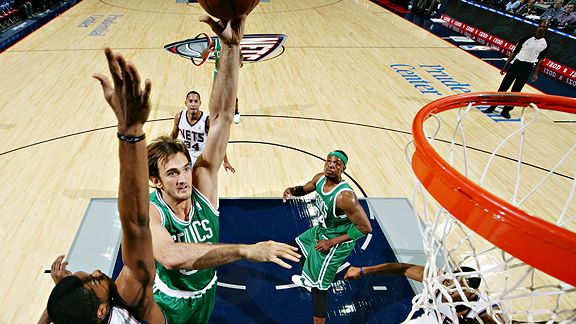 Ned Dishman/Getty Images
Semih Erden skies towards the hoop in the preseason.A glance at our ESPN.com stories after the Boston Celtics practiced Monday before traveling to Detroit for Tuesday's game against the Pistons:
"Saldirgan, Semih."

That's the advice Shaquille O'Neal suggested he's been imparting on Boston Celtics rookie center Semih Erden lately. No need to break out the Turkish version of your Rosetta Stone software: That means to be an aggressor, which is the one thing O'Neal thinks Boston's fresh-faced import needs to be on the court.

"He's an excellent player, very skilled," O'Neal said. "Sometimes he's too shy. I always have to tell him -- in Turkish -- to just be aggressive, to go out and play hard. He's a great player, a great kid -- one of the greatest players out of his country. I'm glad to get to know him and show him some things."

Unfortunately for Erden, those "elbows-on" lessons typically have come on the practice floor, where he's been forced to guard Shaq for the better part of the past two months. With Jermaine O'Neal sidelined since the early stages of training camp, Erden has served as the second-unit center, meaning he's the one absorbing Shaq's sharp elbows during daily intrasquad scrimmages.

Maybe that's why he's dealt with some minor injuries (hand, shoulder), but after being held off the court (coach's decision) in Boston's first three regular-season games, Erden is expected to see his first NBA action Tuesday night in Detroit if Shaq can't play. Shaq missed his second consecutive practice Monday with a sore right knee.
Click HERE to read the full story.
Some other links to check out:
* Practice notes: JO to start; Shaq likely out: Shaquille O'Neal sat out his second consecutive practice with a sore right knee, but Jermaine O'Neal engaged in near-full participation for the second day in a row with hopes of starting Tuesday's game in Detroit. Also in practice notes: The C's talk about their Halloween tricks and treats.
* C's leapfrogged by Heat in power rankings: Despite an opening-night win over the Miami Thrice, the Celtics slipped back a spot to No. 3 in the latest ESPN.com NBA Power Rankings.
* Red Claws add nine through draft: Boston's D-League affiliate taps Glen Davis' former LSU teammate, Magnum Rolle, with its top pick in this year's draft.