at The Palace of Auburn Hills, 7:30 p.m. | CSN, WEEI (850 AM)
GAME PREVIEW (via Stats Inc.)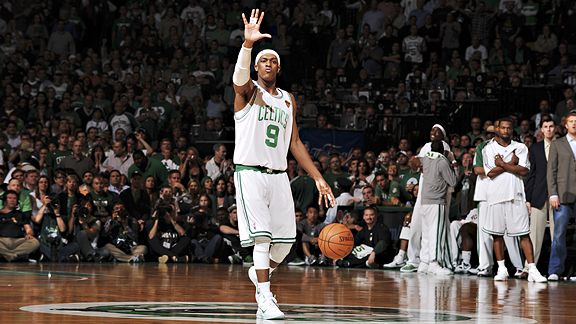 Garrett Ellwood/Getty Images
What will Rajon Rondo do for an encore Tuesday?As good as he was distributing the ball last season, Rajon Rondo has been even better this fall.
The fifth-year point guard hopes to continue that trend as the visiting Boston Celtics try to keep the Detroit Pistons winless Tuesday night.
Rondo was fourth in the NBA with 9.8 assists per game in 2009-10, helping Boston reach the NBA finals, and he's leading the league by a wide margin in that category this season at 16.7.
He had a career-best 24 assists -- four shy of Bob Cousy's franchise record from 1959 -- along with 10 points and 10 rebounds to record his fifth career triple-double in a 105-101 win over New York on Friday.
"It means a lot, but I'll try and catch him," Rondo said of coming close to Cousy's record. "[It's] all about the teammates. If they don't make the shots, we don't get team assists."
Rondo's leadership on the floor helped Boston (2-1) top 90 points for the first time this season. Paul Pierce had 25 points and 14 rebounds while Kevin Garnett added 24 points and 10 boards.
"If you're not ready, he'll embarrass you. He'll hit you right in the head with the ball," said Garnett, who shot 12 of 17 after going a combined 7 for 19 in the previous two games. "He'll see something you didn't see, but he'll make you see it."
Read the full preview HERE.
FORSBERG'S THREE THINGS TO WATCH
Jer-maine man: His first month with the Celtics plagued by injuries, Jermaine O'Neal boasts his best opportunity to shake off some rust as he is expected to draw the start in place of injured Shaquille O'Neal (right knee bruise). Even with his own cocktail of ailments, including a sore left knee that kept him out of Friday's game against New York, Jermaine O'Neal has a chance to get comfortable playing alongside the starters. A few easy buckets -- and avoiding foul trouble -- could finally get him on track.

Erden's debut?: While he's dressed in each of the first three games of the season, Semih Erden hasn't gotten on the court. Even without Jermaine O'Neal Friday, the Celtics simply extended minutes for Glen Davis and went small much of the night. But given that Jermaine O'Neal is still getting up to speed on his conditioning, there's the opportunity for the Turkish rookie to see his first NBA action. It's likely to be brief, but it will be interesting to see how far he's come after logging plenty of second-team reps since Jermaine O'Neal started ailing.

What's next for Rondo?: The reigning Eastern Conference Player of the Week, Rajon Rondo will be hard-pressed to top his triple-double performance from Friday night, one in which he dished out 24 assists. Rondo can seemingly do little wrong right now. Heck, even teammates gushed about how great his Tiger Woods costume was for Halloween. His matchup against Rodney Stuckey is the one to watch Tuesday evening.
Coverage Plan: We're not in Detroit tonight, but we'll have an eye on things from afar. Check out our Twitter during the game and we'll pass along First Impressions and Five Thoughts From Afar after the contest.