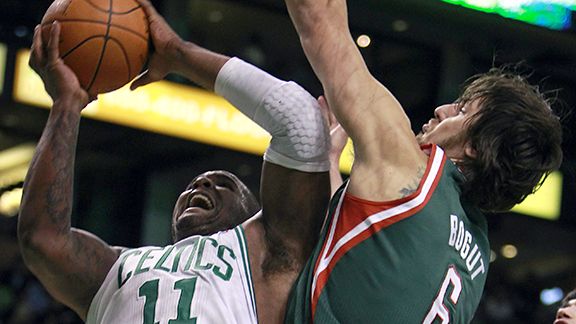 AP Photo/ Michael Dwyer
Boston's Glen Davis goes up for a layup against Milwaukee's Andrew Bogut.BOSTON -- First impressions after the Boston Celtics defeated the Milwaukee Bucks 105-102 in overtime Wednesday night at TD Garden:
HOW THE GAME WAS WON
Celtics captain Paul Pierce scored 12 of his team's 14 overtime points, including the 20,000th of his career, carrying a weary Celtics squad in the extra session. Looking tired on the second night of a back-to-back (though their opponent was playing its second game in as many nights as well), the Celtics sleepwalked through much of the first 45 minutes, but stuck close enough to make a charge late in regulation. Kevin Garnett scored six of his 13 points in the final three minutes of the fourth quarter, producing a pair of spirited and-1 buckets around the rim as Boston forced overtime, where Pierce took over.
TURNING POINT
The Celtics were down five with less than three minutes to play when Garnett put a turn-back-the-clock spin move on Andrew Bogut and delivered an emphatic one-handed jam (picking up the foul in the process). Tempers flared between the players with an amped Garnett slipping Bogut an elbow in the post-dunk fray and Bogut responding with a forearm shove to the chest. Double technicals were issued, but it only seemed to fire up Boston. Garnett produced another and-1 bucket, producing a layup with 1:50 to go, building a small cushion that the Celtics needed as Milwaukee rallied to force overtime.
STAT OF THE GAME
Pierce made all 11 of his free throw attempts on the night, including eight in the extra session.
UNSUNG HERO
Despite a somewhat sluggish start (three first-quarter turnovers; only one first-quarter assist), Rajon Rondo sparked Boston's offense throughout the night. His dashes to the rim were just about the only thing that kept the Celtics in the game early on and while he missed a potential winner at the end of regulation, he flirted with a triple-double finishing with 17 points, 15 assists and eight rebounds over 47 minutes.
WHAT IT MEANS
Overtime was the last thing the wobbly-legged Celtics needed, but a win is a win is a win. The Celtics didn't make it easy on themselves with poor game-management decisions or a lack of defensive stops in the fourth quarter, but they found a way to sneak one out, riding their captain when it mattered most.