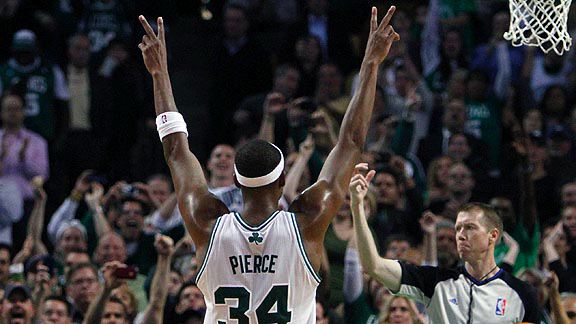 AP Photo/Michael Dwyer
Paul Pierce raises his arms to salute the crowd after scoring his 20,000th career point.BOSTON -- Celtics captain Paul Pierce became the 36th player in NBA history to reach 20,000 career points during Wednesday's game against the Milwaukee Bucks.
Pierce needed 23 points to reach the milestone and got there with the aid of overtime. Pierce scored 12 of Boston's 14 points in OT to lift the Celtics to a 105-102 triumph at TD Garden. He finished with a team-high 28 points.
Pierce reached the milestone by connecting on a free throw with 13.3 seconds to play. The fans showered him with a standing ovation and Pierce raised both arms to salute the moment.
"You know, it was an emotional moment for me, tough for me to swallow," said Pierce. "I was just thinking about all the years I have been here and you don't see it often where a player accomplishes that kind of feat playing with one team."
Indeed, while Pierce is the fourth player on the Celtics' current roster to reach the milestone -- Shaquille O'Neal (fifth all time; 28,281 points), Kevin Garnett (22nd; 22,332) and Ray Allen (28th; 21,025) are already there -- he is only the third lifetime Celtic to reach the milestone -- Larry Bird (25th; 21,791) and John Havlicek (11th; 26,395) the others.
"As Paul said, to do it in one uniform is very special," said Garnett. "Nonetheless, just to do it, it means a lot, man. It means a lot that there are only a select few that are in that category, it's a very small window of people that are in it. It's a good list of people to be neighbored by, so congratulations, Paul."
Gary Payton (24th; 21,813), Robert Parish (19th; 23,334) and Dominique Wilkins (10th, 26,668) are among former Celtics who also reached the plateau.