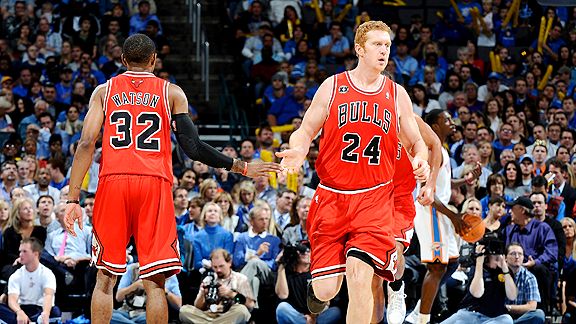 Larry W. Smith/NBAE via Getty Images
Old friend Brian Scalabrine returns to Boston Friday night.Just another Friday night at the Garden? Hardly. There's no shortage of story lines when the Chicago Bulls visit the Boston Celtics (ESPN, 8 p.m.) in an early season Eastern Conference showdown.
The return of Brian Scalabrine and Tom Thibodeau; Rajon Rondo vs. Derrick Rose; Kevin Garnett vs. Joakim Noah. It's going to be a fun night on Causeway St. and the participants aren't hiding their excitement either.
"As much as I would love to downplay it, I am actually pretty excited about going back to Boston to play there," Scalabrine said. "More than just me, Tom [Thibodeau, too] ... if we could go out there and get a win I'd be the happiest dude alive at the time."
Asked about Thibodeau's return, Celtics coach Doc Rivers' face lit up.
"That'll be great [to have Thibodeau back in town]," said Rivers. "We talk a lot; Hell, I think I talk to him more now then when he was with us, at least it feels like that at times. I'm just real happy for him. He's doing a sensational job. I don't know if anybody paid more dues than him. He's been around for a long time, trying to get a head coaching job. So it's real nice."
Our good friend Nick Friedell of ESPN Chicago (follow him on Twitter, @ESPNChiBulls) provides a nice breakdown of Friday's other story lines:
RONDO vs. ROSE:

Which team has the better point guard? Obviously, it depends on whom you ask, but there is no doubt that the Bulls clearly have a lot of respect for Celtics point guard Rajon Rondo.

"Mentally, he's probably the smartest player I've ever play against," Scalabrine said. "Some players play out of instincts and what they see they can go and attack. He plays out of concepts. He's like Doc, or a guy like Mark Jackson, they see stuff that could happen and a way that you could beat a team that most of the people, including players, don't see."

Rose was very complimentary as well; the pair played together for Team USA over the summer.

"You can't guard passes like that," Rose said of Rondo. "It's hard when somebody doesn't have to score and they can still control the game. So with him doing that and rebounding, it's very tough. You just got to make sure you pressure him and make sure he's got his back turned."

As for Rondo's departure from Team USA before the World Championships, Rose said he really didn't know much about the situation.

"I really didn't know what was going on," Rose said. "I was confused. It happened in the morning; we woke up, go in the meeting and he wasn't there, so we really didn't know what was going on. [Coach Mike Krzyzewski] wasn't really saying too much about it and then we just kept it like that."

NOAH vs. KG

Having played with both Joakim Noah and Kevin Garnett, Scalabrine may be one of the best players to judge how the pair compares to one another.

"They're motor's the same," Scalabrine said. "There's just little differences. Jo has better hands, bigger and better hands. KG is a better shooter. But, all those differences balance out to a really good player and another really good player. What's similar is their motor is the same ... and that's important in the league. It's an underrated skill that a lot of people don't talk about."

As for who the better trash talker is?

"Better as in more tactful?" Scalabrine responded. "Better as in talks more?"

"Who gets in your head more?" I said.

"Oh, Kevin, no question" he said. "Kevin gets in your head probably better than anybody."
A glance at Thursday's headlines:
Celtics Mailbag: Can Rondo, Baby keep it up?: In terms of assists, Rajon Rondo is off to the best start in NBA history through five games. But could he challenge John Stockon's single-season assist record? Could Glen Davis be a candidate for Sixth Man of the Year?

Ainge defends KG: Celtics president of basketball operations Danny Ainge is the latest to come out in strong defense of Kevin Garnett, calling Detroit's Charlie Villanueva's accusations "ludicrous."

Knicks' bench sparks record from downtown vs. Bulls: Chicago endured a tough loss Thursday night on the front end of a back-to-back before visiting the Celtics Friday.